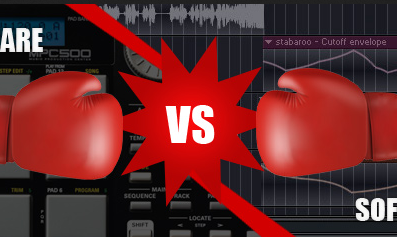 Here are my thoughts on Music Hardware vs Music Software. Which should you choose?

When I began my journey of making music, I always saw people in music forums getting into heated debates on hardware versus software.
The hardware lovers would look down upon the FL Studio users, question Propellerhead Reason users, and not consider someone to be a serious music producer unless they have real physical equipment.
Are music software users less credible than hardware users? No, everyone is making music with software today.
The problem is the market is over saturated with everyone trying to be a music producer.
Here are examples of popular songs that were created with FL Studio:
There are many more examples you can find online.
You can use FL Studio, Reason, Logic, MPCs, Keyboards, etc. It doesn't matter.
---
It's not about the music equipment or music software, but about the person using the equipment. Your ear for music, skill, and talent matters more than the equipment you are using.
---
Dr. Dre's music equipment didn't make him the big music producer he is today. His ear and talent for music did. So don't think you need a big studio to make good music.
Related: 7 Things Every Music Producer Should Have
Music Hardware or Music Software?
I suggest both. Depending on your budget you should start with music software because it's not usually dependent on other hardware.
Once you start making music, slowly add more equipment.
Music hardware and software can work well together with getting your creative juices flowing. But don't think having tons of hardware is a must because you see other music producers with it.
With music software, there are so many VST plugins, presets, effects, and add-ons that you should never run out of sounds.
Why I Love Music Hardware
Creativity – With hardware, you are more focused on sounds because you aren't staring at a computer screen and clicking around on a mouse. 
No Audio Latency Issues – When you run a lot of plugins and sounds on your computer, you can get audio delay issues that drive you nuts. With hardware, you don't have these issues.
Fewer Options – When you have an MPC or keyboard, you know exactly what it's capable of. Too many options can be distracting from the creative process.
Something Physical – I'm on a computer all day. I'm not a fan of all the clicking you have to do with a mouse. It feels good to have something physical to make music on that isn't a computer, and that doesn't involve a mouse.
Reasons I Love Music Software
Portability – A laptop and a midi keyboard can be your entire set up. You can have thousands of sounds and a variety of software. You can take it with you anywhere and not be restricted to one place.
Editing – It is easier to edit audio, samples, and MIDI.
Free Music Software – Online you can find tons of free VST plugins, presets, and add-ons. In fact, some VST plugins are modeled after vintage hardware and carry the same sounds. They may even sound better.
Collaborate with Others – With many music programs you can package up your song and send it to others to work with.
I hope this article has helped you out in some way.
Remember, it's not about the music equipment you have. It's about the music you make with what you have. You can have a big studio and suck, or have FL Studio, Reason, of Logic and rock! It's up to you.
Related: How to Make Beats ( Beginners Guide )
What are your thoughts on Music Hardware vs Music Software?