Here are the best Free Organ VST Plugins online that can be used with FL Studio, Reason, Ableton Live, and other VST supported software.

Tutorial: How to Install VST Plugins
---
Best Free Organ VST Plugins
Instructions: Click each link below and look around each website for the download link or button. Do not install any suspicious software.
Combo Model F is a virtual combo organ VST, modeled after a well-known combo organ from the 1960s: the Farfisa Mini Deluxe Compact.
4-octave C-to-C keyboard.
Harmonic range 6 polyphonic octaves.
3 treble voice tabs: Dolce, Principale, Strings.
Multi-Tone Booster voice with All Booster tab.
Knee lever control.
Bass voice (grey keys).
Vibrato unit with adjustable speed and depth.
Volume pedal.
Adjustable tuning per note.
Fully modeled (no samples inside).
The model includes oscillators, dividers, crosstalk, noise, filters, key contacts, and key click.
Velocity-sensitive key contact attack and release.
Fully automatable.
PDF detailed manual.
---
Chord Organ VST is a modeled electric reed organ in the style of a Magnus chord organ.
It can also be used as a midi processor to transmit the chords.
---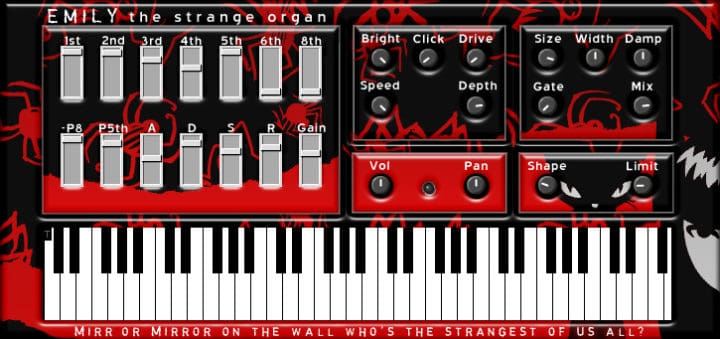 This organ type synth can create sounds that aren't necessarily organ-like.
---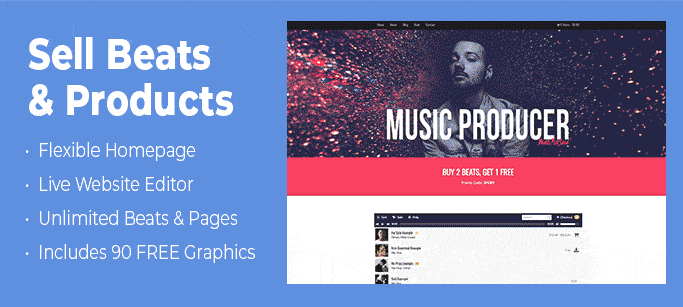 ---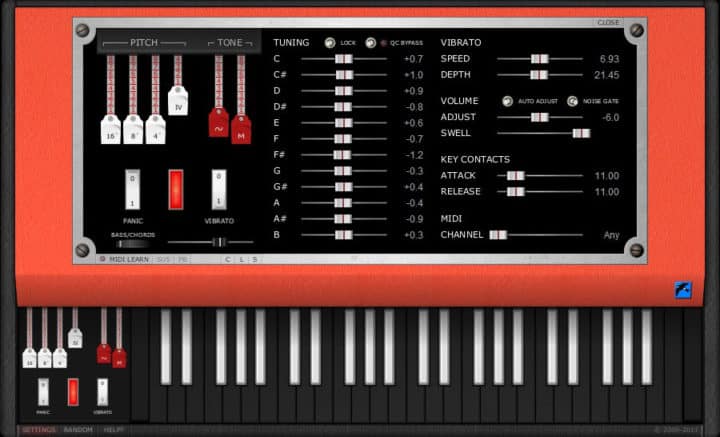 Combo Model V is a combo organ VST modeled after a well-known combo organ from the 1960s.
4-octave C-to-C keyboard.
Harmonic range 7 polyphonic octaves.
2 voice drawbars: Flute, Reed.
Vibrato unit with adjustable speed and depth.
Swell (volume) pedal.
Adjustable tuning per note.
Fully modeled (no samples inside).
The model includes oscillators, dividers, crosstalk, filters, key contacts and key click.
Velocity-sensitive key contact attack and release.
Fully automatable
32 presets included
---
Free VSTi made by Jason Morin with the Maize Sampler. Contains samples from the Supertone reed organ that is part of my Reed Organs sample self recorded it with 2 different microphones including a shotgun mic, the samples in the VSTi are those recorded with the regular mic. There are less samples than in the sample set. In the sample set, each of the 25 keys (from C3 to C5) was sampled and included. In the plug-in, 5 samples are used mapped to roughly 5 keys each. Even with less samples it is very playable and enjoyable. The fan noise and powering up samples are also not included.
4 different Reed Chord Organs: Bontempi B3, Magnus 360, MicrOrgan and Supertone. The last 2 are rare models.
Recorded with different microphones (except the Bontempi). Relative levels of the notes are preserved.
477 looped samples for a size of 316 MB.
Available in Kontakt 3.5, Kontakt 4 and sfz formats. Kontakt versions have 72 instruments and multis made with the original samples and 26 instruments using the tone or time machine engines, custom skins and scripts (2 scripts for K4 and 1 for K3.5). Also the Kontakt versions include instruments with original tuning of the instruments and retuned instruments. The sfz version has 27 definition files.
These organs are very noisy with their fan. All the notes have been carefully denoised to limit the noise while keeping the original sound but I have sampled the noise and you can put it back if you desire to. The chords have not been denoised.
---
Phibes electric organ tries to capture the sound of those sweet sixties organs.
It is definitely no Hammond B3 or Vox Continental but rather some obscure and cheap east-european imitation of them.
9 drawbars with five different tones.
Vibrato.
Tremolo.
Rotator effects.
Staccato mode.
---
---

Soft Glow Organ is a rompler that uses samples from a 1960s electric organ and synthesizer-style controls to produce warm sounds with modern effects.
Sample plays on note hit (sample will play for over 30s). Amplifier envelope, filter envelope, hp/lp filters, reverb, boost (which can be chained after the filters), LFO (tempo-synced) which can be sent to the sample pitch (vibrato), filter pitch, and pan, mixer with an assignable volume knob, and a panel of extra controls (including mod wheel and a fine tuner) hidden under the reverb controls (use the reverb / controls selector).
---
Big Blue Organ is an organ simulation in the style of a hammond drawbar organ but is not supposed to be a 100% accurate simulation of the original instrument.
Hammond"-style, 9 draw-bar, organ.
5 different waveform shapes.
User defined ADSR.
Unlimited polyphony (CPU allowing).
Fully automatable parameters.
Rotary speaker simulation.
Responds to channel aftertouch, Mod-Wheel (speaker speed), Pitch bend.
---
AZR-3 is an emulation of a drawbar organ providing two keyboards and a pedal section.
It's not a close tonewheel emulation, but you can choose between different basic waveforms in addition to the "clean" sound of pure sine waves
Drawbar control.
Click emulation.
Sustain.
Percussion.
Pitch bend.
Vibrato.
Distortion / overdrive.
Rotating speakers emulation.
---
---

Bravette is a vintage home organ with an old school styles rhythm section.
It was designed to create some fun, although it has it's uses in adding an authentic home organ feel to music, especially Reggae and Ska.
Selectable voices and rhythms.
Tempo control.
Tune control.
---
VL-122 virtually reproduces the vintage electro-mechanic spinet organ Hammond L-122The sound engine of the VL-122 is a physical modelling emulation of the real electro-mechanic generators (tone-wheels), drawbars, filters and effects (vibrato and reverb) that compose the original instrument. Moreover, some new effects have been added to recreate the complete set of timbres that characterize all the Hammond spinet organ sounds, from classic and church to rock and progressive.
High level of compatibility to different hosts and HW platforms.
Very lightweight algorithms, so that simple and cheap virtual machines don't suffer overloads of the CPU.
Easy installation procedure, there is no need of any installers, simply copy the vl122.dll file to the right folder.
High degree of MIDI configuration capability, useful when using very simple and poor VST hosts.
---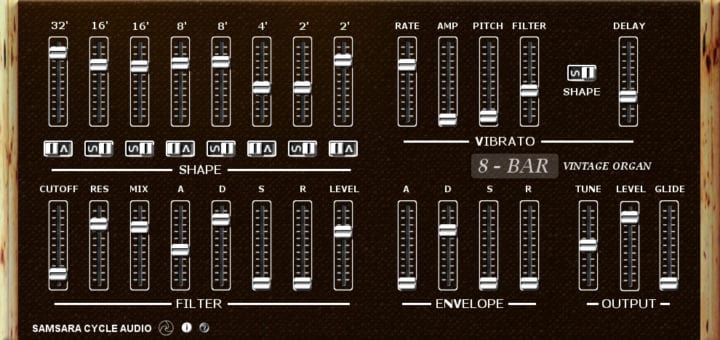 8-Bar is a vintage drawbar organ.
8 Volume Controls from 32′ to 2′.
Sine / Saw shape.
Vibrato section: Rate, Amp, Pitch, Filter, Shape Select, Delay.
Filter Section: Cutoff, Resonance, Mix, ADSR.
Envelope Section: ADSR.Output Section: Tune, Level, Glide.
MIDI Learn.
---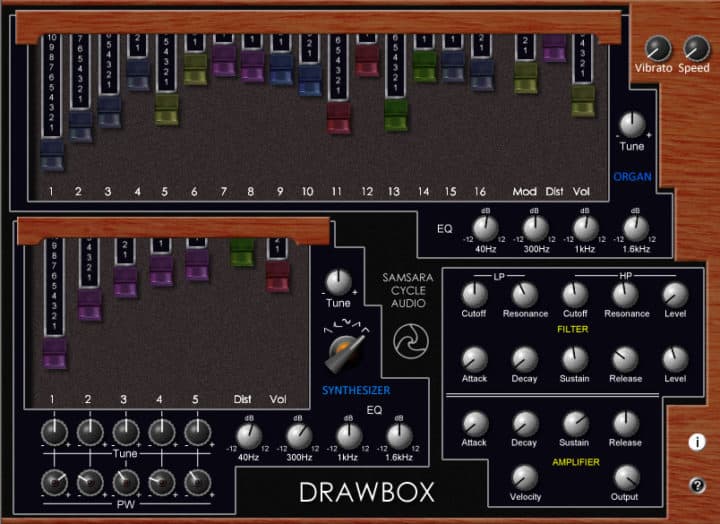 Drawbox is drawbar style hybrid organ.
16 octave drawbars.
Individual tuner controls for each drawbar.
Individual PWM Controls when Pulse Wave is Selected.
Wave Selector (Saw, Pulse, Sine, Ramp, Triangle).
Low Pass / High Pass filter section.
Main tune controls.
EQ sections.
ADSR filter envelope.
ADSR amp envelope.
Distortion / vibrato.
Midi learn.
---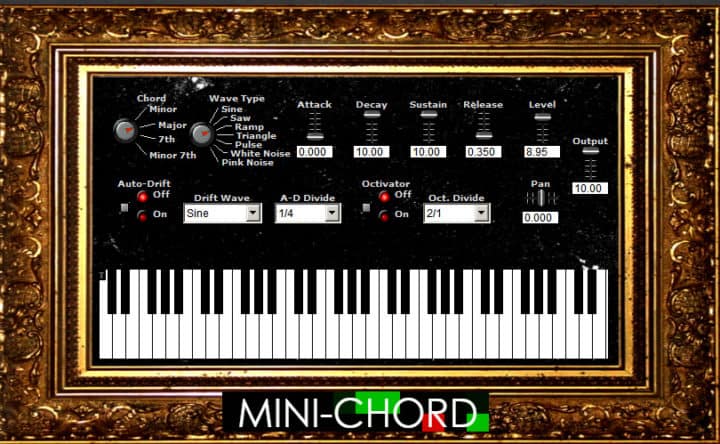 Mini-Chord is a chord organ. It plays a four-note chord for each note hit. Select the wave type to get familiar electric organ tones and use the tempo-synced effects to add rhythm and movement to create entirely unique sounds.
---
An update to the original and popular Morphiza. This version is a cousin to S3O. Designed to capture the sounds of the transistor organs of the 60s and 70s. Comes complete with 16 presets but the interface makes it very easy to create your own…
---
Free Organ Samples
---
I hope you enjoy these free Organ VST plugins. Please share this article and join our newsletter for more free VST Plugins.