Here are the Best Free Delay VST Plugins online that can be used with FL Studio, Reason, Ableton Live, and other VST supported software.
Tutorial: How to Install VST Plugins
Instructions: Click each link below and look around each website for the download link or button. Do not install any suspicious software.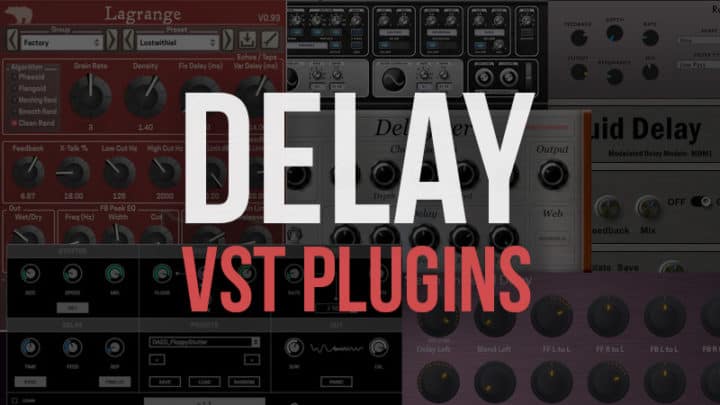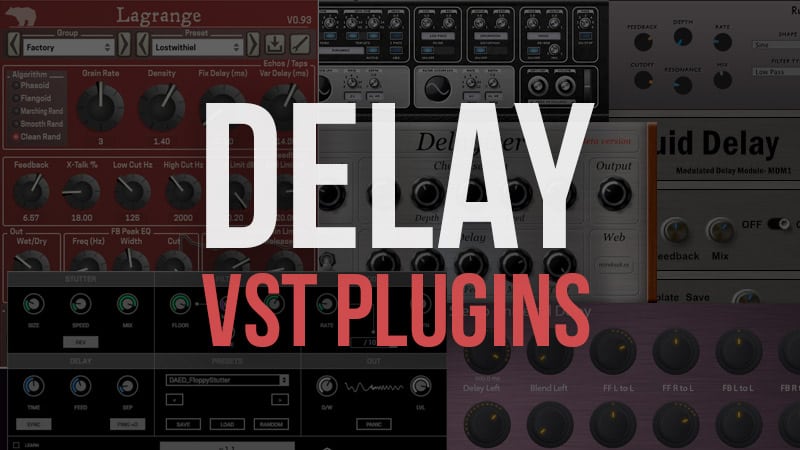 Best Free Delay VST Plugins
1. Rubbadub

Rubbadub is a delay vst effect plug-in designed with versatility in mind.
As a dub delay, it can be tempo-synced and offers a state variable filter in the feedback line. At the lowest extremes of delay line lengths, Rubbadub becomes a through-zero flanger with a variety of modulation options.
Time is split up into three modes (H, M, L) to provide detailed control over delay time, and even finer control is possible with the command key. When modulation is pushed to the limit your sound transforms into a rubbery gelatinous substance that defies description.
OS: Windows / Mac
---
2. ATK Stereo Universal Delay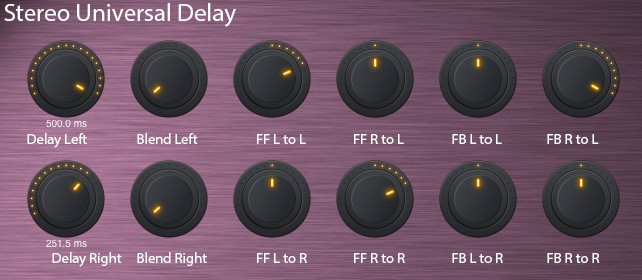 ATK Stereo Universal Delay is a dual stereo delay vst plugin based on the Audio Tool Kit.
OS: Windows / Mac
---
3. Hysterisis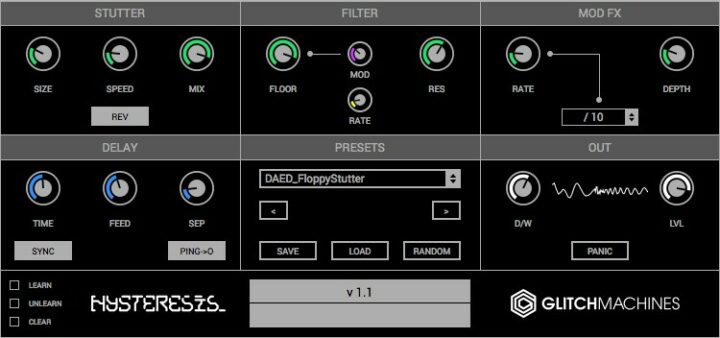 Hysteresis is a free glitch delay vst plugin geared toward creating robotic artifacts and abstract musical malfunctions.
Hysteresis features a delay effect with a stutter, low pass filter, and modulation effects thrown into the feedback signal path.
Process anything from drums and percussion to synth lines and sound effects. On top of being able to create incredibly wild signal mutations, it can also be used to generate classic delay effects.
Feedback-based delay effect with tempo sync
Reversible stutter effect in the feedback path
Low pass filter in the feedback path
Modulation with rate division/multiplication
Over 100 presets from our top sound designers
Cross-platform compatibility (PC/Mac – VST/AU 32bit & 64bit)
OS: Windows / Mac
---
---
4. Lagrange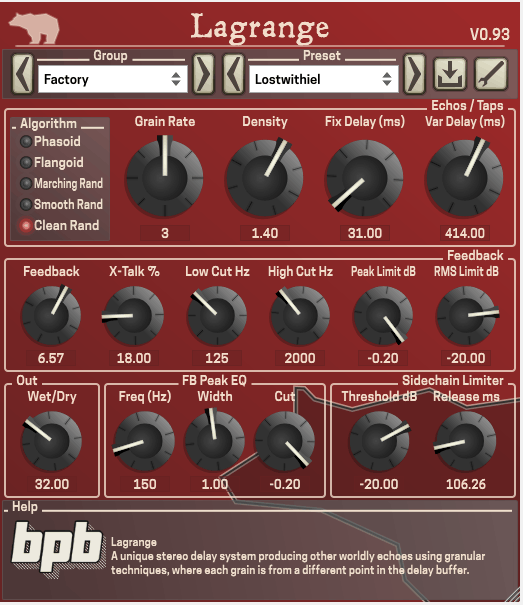 Lagrange is a unique stereo delay system producing otherworldly echoes using granular techniques, where each grain is from a different point in the delay buffer
Use basic settings to create immersive stereo imagery with clean early reflections to give instruments a clear place in the mix.
Use the feedback control to transform your sounds into droning evolving soundscapes.
Shorten the delay time to create unusual metallic chorus effects.
OS: Windows / Mac
---
5. Spaceship Delay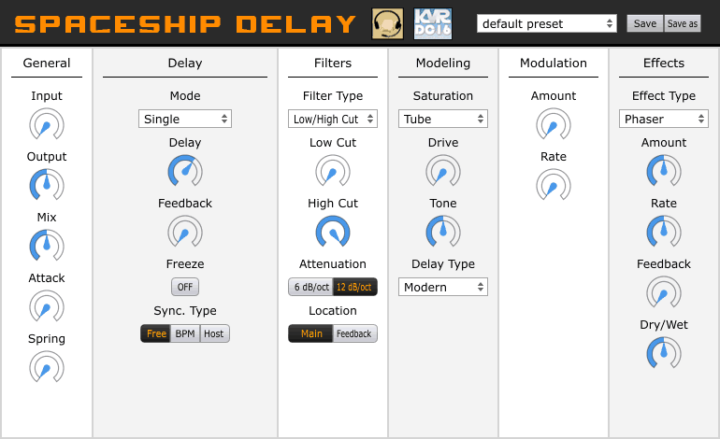 It can be used as a typical delay for mixing vocals, adding some depth to drums, guitars, synth sounds, but also as a more creative effect, thanks to the attack control, even as a looper thanks to the freeze switch and the very long maximum delay sizes. 
Spaceship Delay includes finally a few presets and an embedded tutorial feature, available from the about tab (by clicking on the logo in the user interface) where you can learn how to use properly the plug-in, with live tutorials, and how to do some classic delay tricks like doubling vocals, slapback rockabilly guitars, ambient sounds, etc. 
Spaceship Delay is free and available on VST, AU, and AAX formats (32/64-bits, Windows & Mac OS X).
Three delay modes: single, ping pong, and dual / stereo.
Standard delay effects control such as the delay time in ms and in time subdivisions, the feedback (up to 110 % !), a tap tempo button, etc.
A modulation section acting on the delay times and the filter cutoff frequencies.
An attack control allowing the user to feed the delay line only when the input volume is higher than a given threshold.
A spring reverb modeled from a famous tape machine (not that one, another one).
An advanced filtering section including standard low pass and high pass filters, shelf filters, and the simulation of two famous synthesizer filters (not these ones either, other ones).
A specific "modeling" section giving access to different kinds of delay lines and saturation colorations, featuring a bit crusher and a tube preamp simulation.
A "Freeze" switch can be used for some creative effect or to transform the effect into a looper with high delay values.
Post effects such as extra filters, a tremolo, and a vintage phaser
OS: Windows / Mac
---
6. Delayizer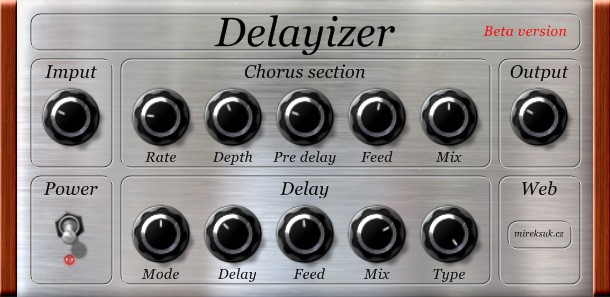 Delayizer is a modulated delay unit, featuring a chorus section.
OS: Windows
---
7. Retro Delay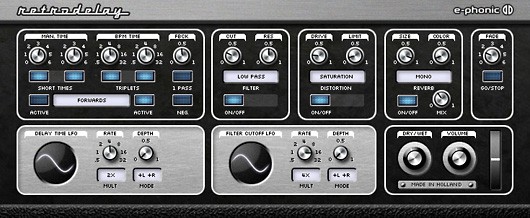 Retro Delay is a flexible all-around delay effect in VST format. It has the character and sound of a vintage delay unit but features many modern options. Besides delays, it can produce a wide range of modulation, chorus, flanger, and phaser effects
Independent left and right channel delay lines
BPM synced or manual times (up to 6 seconds)
Forwards or backward delays
X-feedback
Ping-pong delays
Optional negative feedback for phaser/flanger effects
Optional short delay times for phaser/flanger effects
Integrated automatic limiter
4 LFO modes, sine, triangle, ramp, envelope follower
LFO, left/right channel inverse options
24dB/oct resonant filter placed in the feedback path
Switchable low pass, bandpass, high pass, low shelf, and high shelf mode.
Saturation
Saturate and limit parameters
Old-school spring reverb
Size, color, and mix parameters
Optional mono mode
Fade out option, when using high feedback settings
Fade out time parameter
Pitch bend wheel, for smooth delay time changes
OS: Windows
---
8. Fusion Delay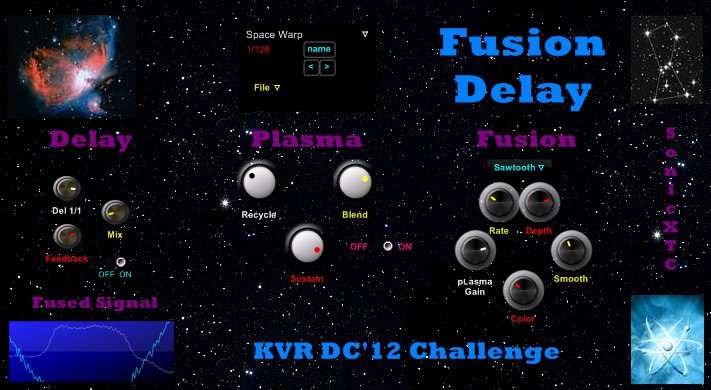 Fusion Delay is a unique unit that offers a wonderful acoustic dispersion effect, ideal for trance, house, dub, and other modern genres of electronic music.
Acoustic dispersion offers musicians a new option for creating interesting delay processing. You will not have much luck finding a similar effect unit at your local music store.
Fusion Delay is designed to create syncopated and evolving delays to any signal. What makes Fusion Delay special and unique is the Plasma section that can be fused with the built-in delay signal chain.
To our knowledge, Fusion Delay is the only delay VST Plugin to use sonic "Acoustic Dispersion" effects. Acoustic dispersion is the phenomenon of a sound wave separating into its component frequencies as it passes through a medium.
The "Plasma" section utilizes our acoustic dispersion modeling technology. It can be fused (mixed) with the "Delay" section by using the "Fusion" controls.
OS: Windows
---
9. Liquid Delay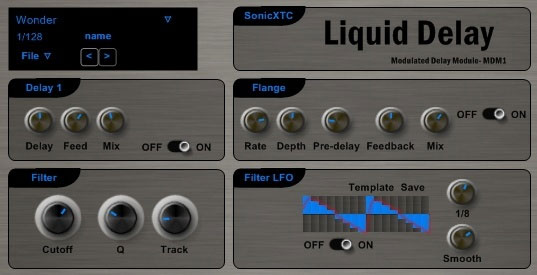 Liquid Delay is a re-creation of a Modulated Delay effect found in high-end studios.
Modulated Delay is a delay effect where the stereo delay signal is subsequently modulated to create additional sonic interest (e.g., pitch fluctuation, frequency fluctuation, or volume fluctuation). In Liquid Delay, the stereo delay signal is processed with a flange effect and a filter. For added dynamics, the filter is connected to a programmable step Low-Frequency Oscillator (LFO).
Liquid Delay allows musicians to experiment with the Haas effect and the Doppler effect (e.g., rotating speaker relies on these scientific principles). However, the Liquid Delay has its own little tricks up its sleeve due to how the signal chain is internally routed. Like its cousin the Liquid Verb, Liquid Delay is designed to inspire knob tweaking and experimentation. They both compliment each other to provide even more sonic punch.
128 user presets
Midi automation
Echo
Modulator- Flange type effect
24 db filter
Step LFO
OS: Windows
---
10. Speculumfree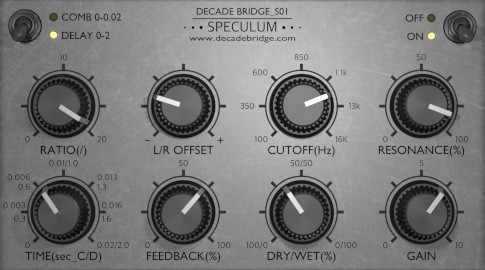 Speculumfree is a delay/comb filter effect plugin. Speculum's state can be switched between delay and comb filter. The resulting sound is fed through a resonant low pass filter.
The delay rate can be finely adjusted through the divide function. This gives the speculum the ability to produce flanging, chorus, and phasing effects when automated.
OS: Windows / Mac
---
11. TAL-Dub III

TAL-DUB-III is an easy-to-use delay device with some special features.
Its no tape delay emulation and has its own sound. It has an alias-free saturation stage, a non-linear 6dB low pass, and a 3dB high pass filter that are included in the feedback path of the device.
An input drive knob allows adjusting the saturation level. Pop-up menus show the current values of volume, delay-time, and feedback knobs. A tab button allowing to adjust the delay time for live sessions.
Delay time up to 4 seconds
Nonlinear 6dB Low-Pass filter
3dB High Pass filter
Alias free saturation, adjustable with the input drive knob
Delay x2 for each channel
Synced delay times (1/16, 1/8, 1/4, 1/2, 1/1, 2/1 and tripled and dotted notes)
Pop-ups show the actual values dB (input drive, dry, wet), ms(delay), 0..2 (feedback
Led-meter shows the saturation level
Tab button for delay time
Midi Learn for all knobs
The feedback knob is specially optimized for doing infinite delays
OS: Windows / Mac
---
12. Tempo Delay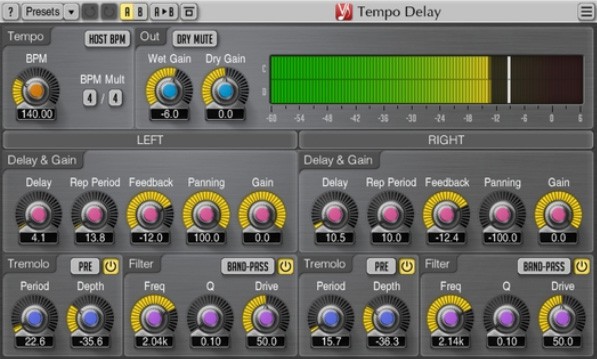 Tempo Delay is a multi-mode stereo delay vst plugin for professional music production applications.
Tempo Delay is based on tempo, incorporating filter and tremolo sections with separate controls for each stereo channel.  Instead of a single "delay length" control this plug-in features separate "delay", "repetition period" and "delay panning" controls which allow you to create evenly sounding "ping-pong" stereo echoes.
Filter section
Tremolo section
Delay signal panning
Stereo processing
64-bit floating-point processing
Preset manager
Undo/redo history
A/B comparisons
Contextual hint messages
All sample rates support
Zero processing latency
OS: Windows / Mac
---
13. Violent delay

Violent delay is a delay unit featuring a filter, a phaser, and a chorus.
OS: Windows
---
14. YSD-dELAY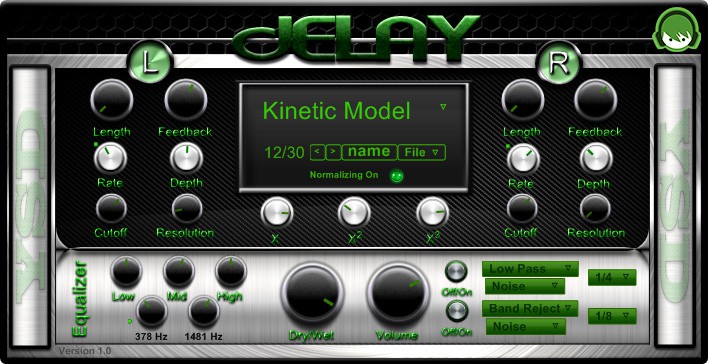 YSD-dELAY is a delay vst plugin effect with a twist.
2 State Variable Filters (for left and right channel)
2 Multi LFO's
Dry/wet
Amp
Simple EQ
Preset manager with 30 factory presets
Waveshaper
Normalizing option
OS: Windows
---
15. WatKat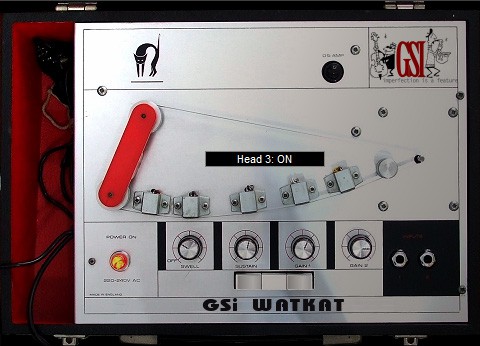 WatKat is a digital clone of a Wem Watkins Custom Copicat tape echo unit. It sounds very lo-fi, noisy, irregular.
When you turn it off and leave the tape loaded, the tape bends in the proximity of the capstan, and this turns into a periodic pitch fall during echo playback; plus, it gets hot and the background hum gets worse in time… you should turn it off now and then; the tape is never completely erased, and the capstan motor flutters… and it gets worse if you touch it while it's spinning; heads tend to get dirty very soon, in fact, you should clean them often. This is true for the actual hardware unit, and for the digital simulation as well!
Swell: adjusts the volume of the repeats.
Sustain: adjusts the number of repeats; be careful with this knob!
Gain 1: volume of input 1 (left channel).
Gain 2: volume of input 2 (right channel).
Head 1, Head 2, Head 3: use these switches to select the playback head(s); each head gives a different delay time.
Very light on CPU and memory.
OS: Windows / Mac
---
I hope you enjoy these free Delay VST plugins.
Please share this article and check out more Free VST Plugins.