These are the best websites to make beats online for free. You can make beats for free in your web browser without installing software.
This list of online beat-making apps includes online DAWs, drum machines, online sequencers, and more.
Some of these online beat-making apps work on mobile devices and support external MIDI controllers. These online beat-making apps are fun to use and you can spend hours making beats with them.
Related: Free Music Production Software Apps
30 Websites to Make Beats Online For Free
Instructions: Click the images below to visit each website.
1. Splice Beatmaker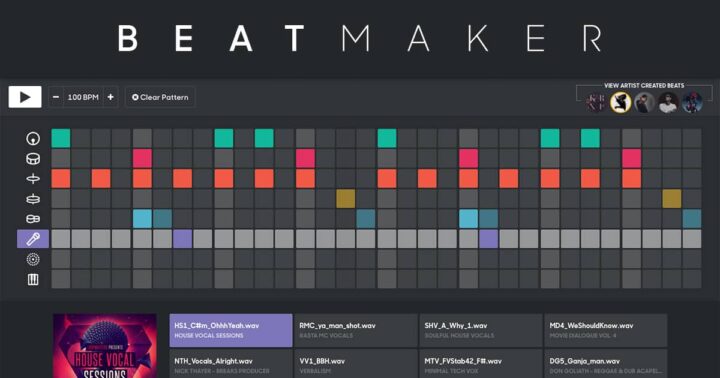 The Splice Beatmaker allows you to create a variety of music genres, including Hip Hop, Dance, R&B, and more.
Splice Beatmaker software allows musicians the ability to produce music instantly and efficiently without a lot of software knowledge.
Listen to beats by other music producers
Beat making drum sequencer
Thousands of royalty-free samples
---
2. Sampulator
The Sampulator is an online sampler that allows you to play and record 46 audio samples in your browser.
Use your keyboard to play Samples
46 Music samples included
Adjust the BPM, Bar Count, and Time Signature
---
3. Sample Stitch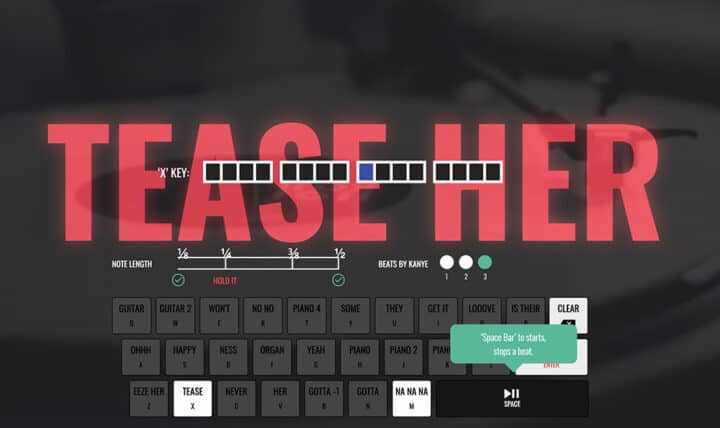 The sample stitch website allows music producers to reconstruct popular beats by J. Dilla, Kanye West, and 9th Wonder.
---
4. BandLab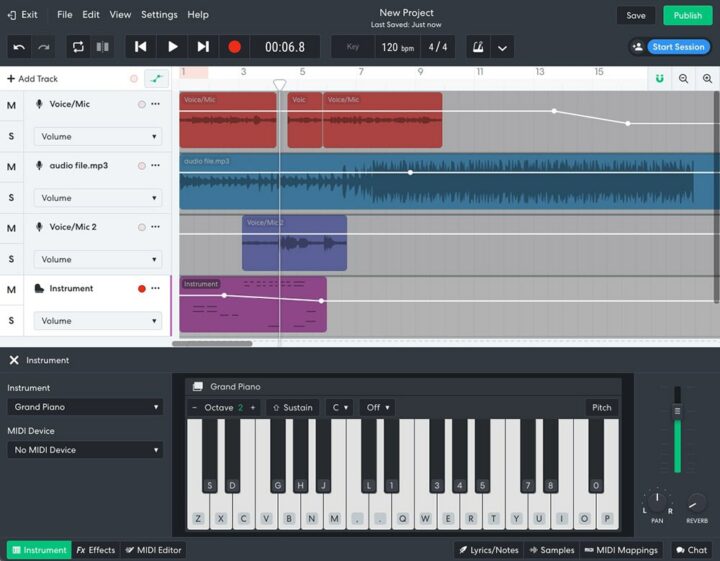 Musicians and fans can collaborate online using BandLab, a cloud-based multitrack music program. The online mix editor lets you record, edit, and mix music online.
You can record and edit MIDI notes with BandLab's virtual instruments.
Produce high-quality tracks online by recording vocals and real instruments.
Free registration is required
Play and record instruments, vocals, and digital instruments
Write lyrics online
Vocal samples can be edited
Add audio effects
Individual audio stems can be exported
MP3 or WAV export available
Online collaboration with beat makers
Record vocals over instrumentals
Instantly creates a shareable previews
Audio time-stretching in real-time
---
5. Soundtrap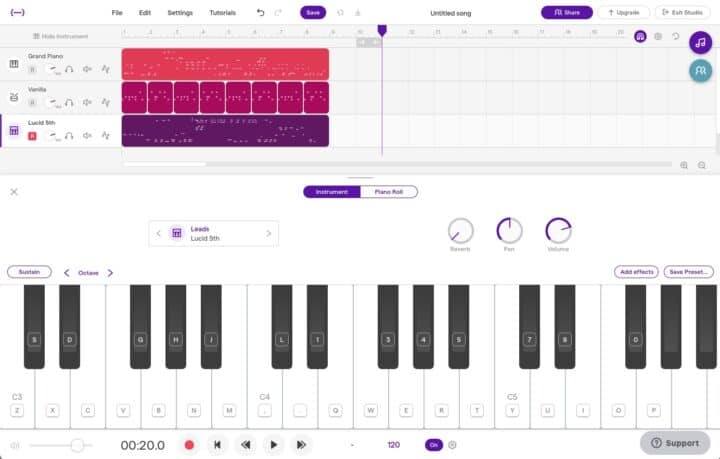 A musician can produce beats online with the Soundtrap music software. Using Soundtrap, you can record, compose, and mix all online.
Using this app, producers can control how their songs should sound as well as how they should be created.
You can easily turn your ideas into reality with Soundtrap. It has pre-set instruments for any genre you're working in, as well as tools for synthesizing, looping, recording, and layering instruments and vocals.
Use auto-tune to adjust the pitch and modify voice recordings
Work with follow beat makers
Automate – Adjust the volume and pan as you please, with the sweeping effect.
Easily create beat patterns
Provides over 4,000 presets and audio loops
Record vocals and musical instruments online
---
6. Genius Home Studio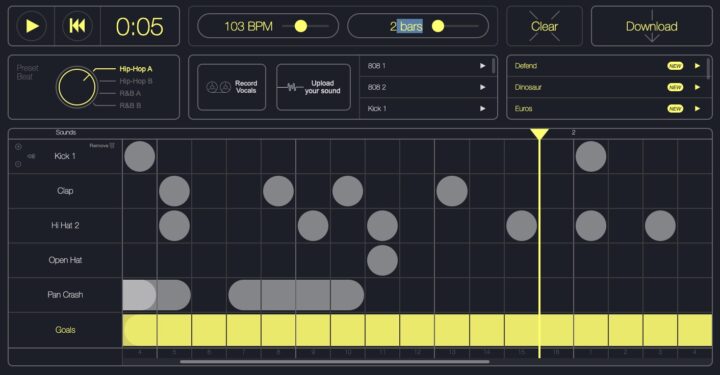 The GENIUS Home Studio software lets users create songs and teach music. You can record your voice, create your own rhythm, and experiment.
Hip Hop and R&B presets
Allows vocal recording
Change bar count
WAV export
Adjust the BPM
---
7. Amped Studio 2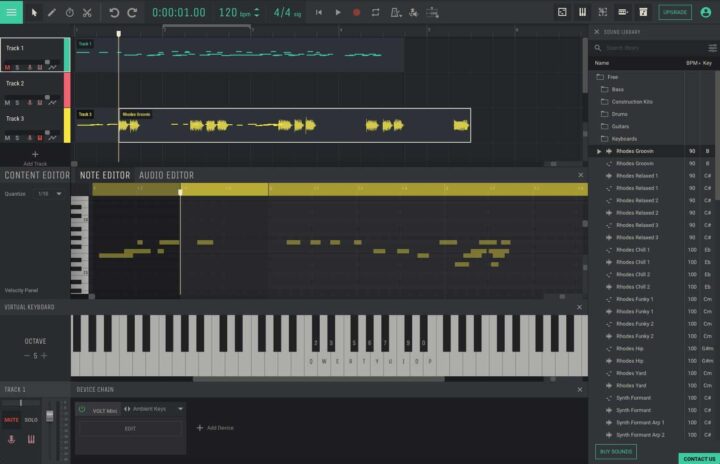 Amped Studio 2 is an online music studio and a browser-based music production tool. This online music DAW can be used by either amateurs or professionals.
You can play both audio and MIDI tracks at the same time in Amped Studio.
On the same track, you may layer instruments over your vocals.
You need a free account to access this content
Virtual musicial instruments
Add and edit MIDI notes
Add audio effects
Use music audio loops
Share music projects online
Large music sample library
Easy-to-Use program
---
8. Soundation Studio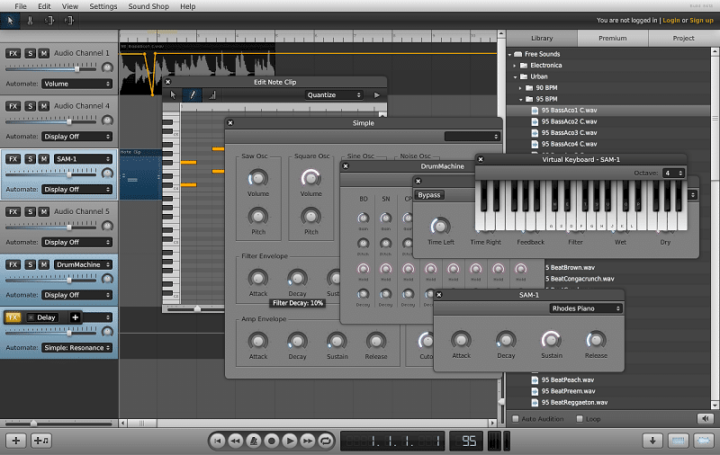 Soundation Studio provides musicians access to professional-quality recording technologies via the cloud.
In addition to providing users with tools for recording, mixing, and mastering audio, it also allows them to collaborate remotely.
Virtual Instruments are available: VA synthesizer, GM-2, Wub Machine, Supersaw, SPC, FM synthesizer
Reverb, phaser, distortion, tremolo, distortion, reverb, delay, reverb
Collaborate with other beat makers
MP3 export
Google Chrome is highly recommended
---
9. 808 Cube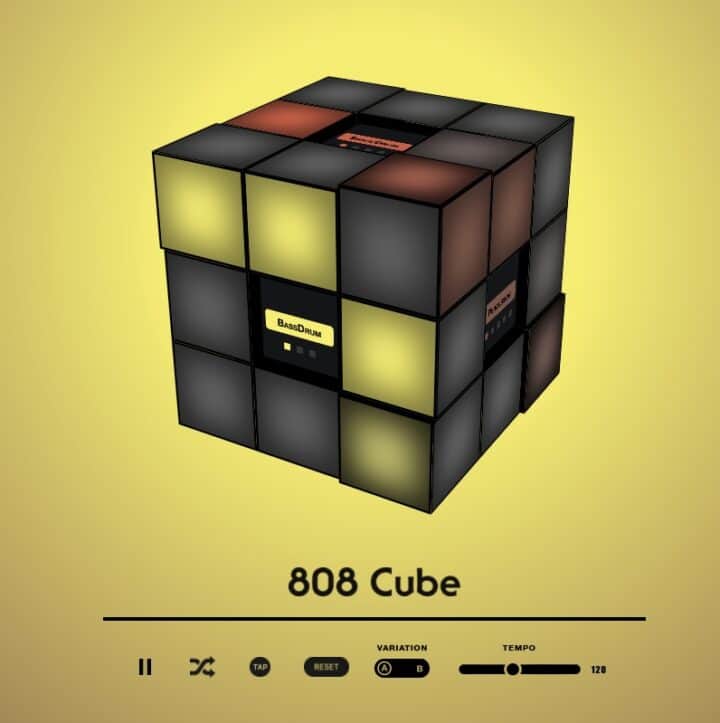 This is a TR-808 drum machine inspired by the Rubik's cube.
Change Beat Tempo
3D Cube Animation
---
10. Signal MIDI Editor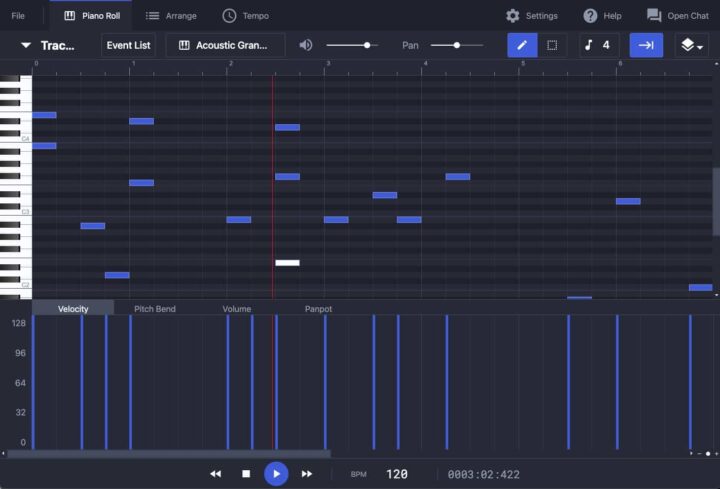 Signal is a free online MIDI editor that has more than 100 musical instruments.
Virtual sound module built-in to 100 instruments compatible with GM.
Edit piano rolls
Edit Velocity and Pitch 
Open & Export MIDI Files
Chrome and Firefox supported
The multitrack editing process
Edit the track tempo
---
11. Roland 808 & 303 Studio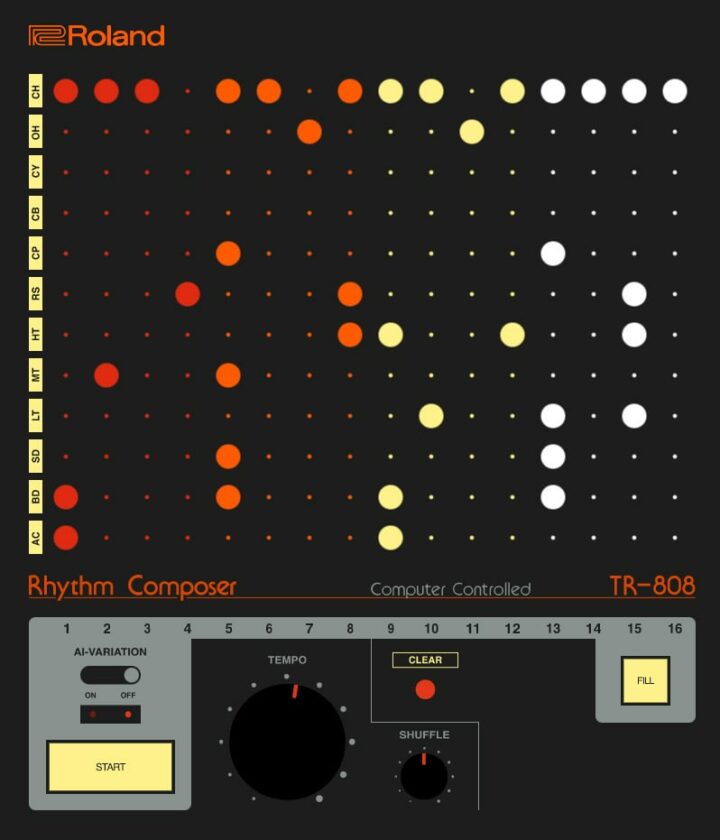 This is a Roland TR-808 and TB-303 bass synthesizer emulator.
Synth & Drum Sounds
Sequencer with 16 steps
---
12. iO-808 Drum Machine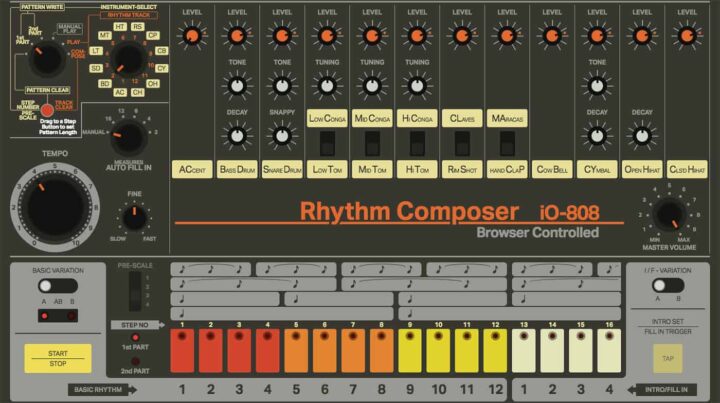 This is a completely remade web-based version of the TR-808 drum machine.
---
13. HTML5 Drum Machine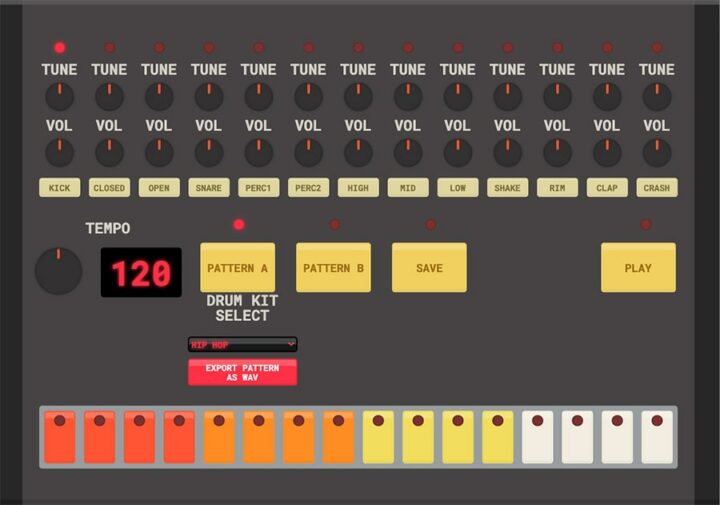 HTML5 Drum Machine allows you to create, save, and download drum loops in your web browser.
---
14. Acid Machine 2
This drum machine and sequencer is called the Acid Machine 2.
Up to 8 patterns can be created
Randomize notes
10 Drum samples
Two synths available
---
15. Audiotool Online Music Studio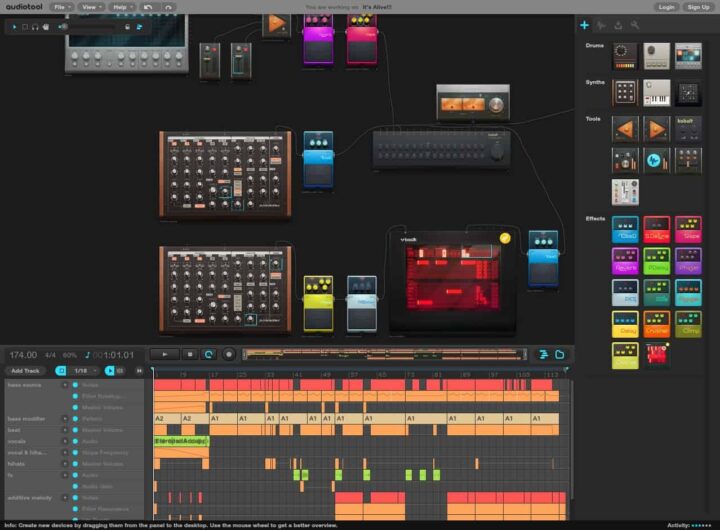 Online music production software Audiotool can be accessed from your browser.
25,000 samples and presets in our sample library.
Instruments: Beatbox 8, Beatbox 9, Bassline
A range of audio effects such as graphic equalizers, auto filters, stereo enhancers, stompboxes, and more
Collaborate with more than one music producer
You need a free account to access this website
---
16. Snap Jam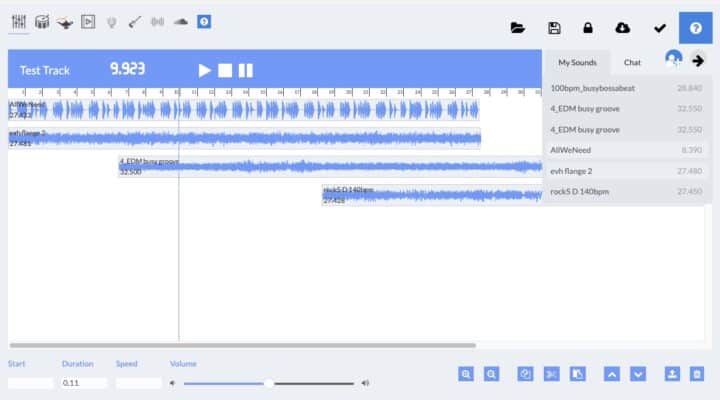 With SnapJam, you can create beats online using free music tools. With the built-in drum machine, you can create background tracks to import into the mixer.
With a microphone, you can record vocals and other musical instruments.
Free account required
Record audio
13 Music instruments
15 Drum kits
Collaborate with online music creators
Add audio loops
---
17. MIDI City – Make Beats Online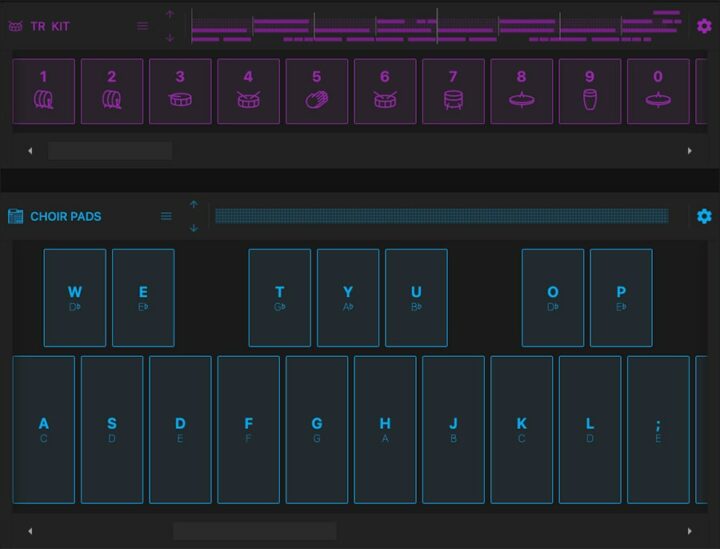 There are over 128 virtual musical instruments such as synthesizers, pianos, guitars, and organs available on MIDI City.
Use your keyboard, touchscreen, or mouse to play sound.
128 Virtual instruments available
10 Drum kits to choose from
Support for external MIDI controllers
---
18. Online Sequencer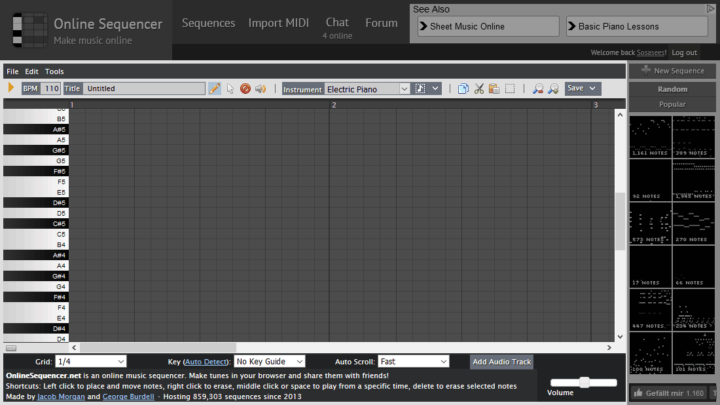 You can edit MIDI notes and sequences online with this.
43 Music instruments
Export: OGG, MP3, MIDI, WAV
Change BPM and time signature
Import & Export MIDI
Load sequences by other beatmakers
---
19. WebSynths Grooves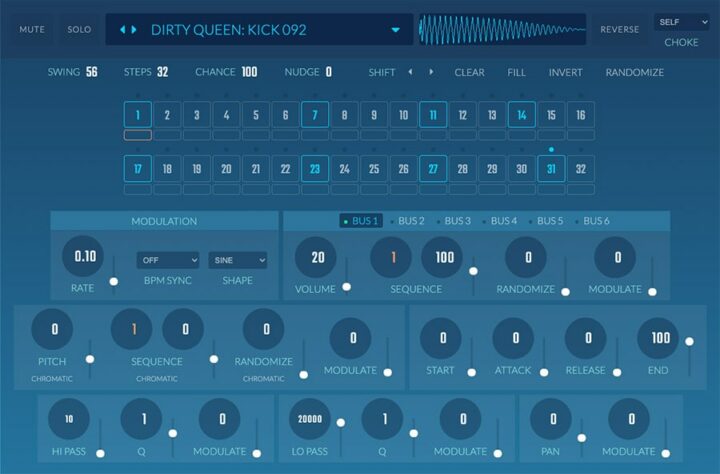 The WebSynths Grooves website is a polymetric sample library and drum machine.
Drum pads for 16 drums
28 Drum kits
8 Patterns can be recorded
---
20. Onemotion Drum Machine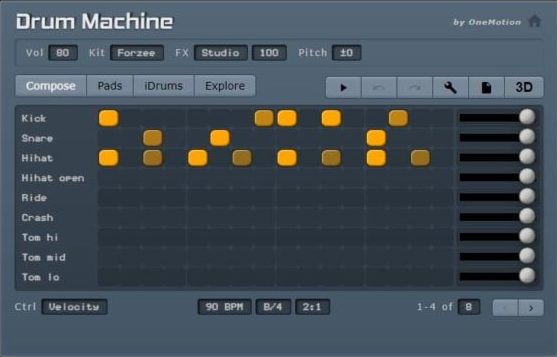 With Onemotion Drum Machine you can use a drum machine on your phone, tablet, or web browser.
You can create and share drum patterns.
---
21. Drumbit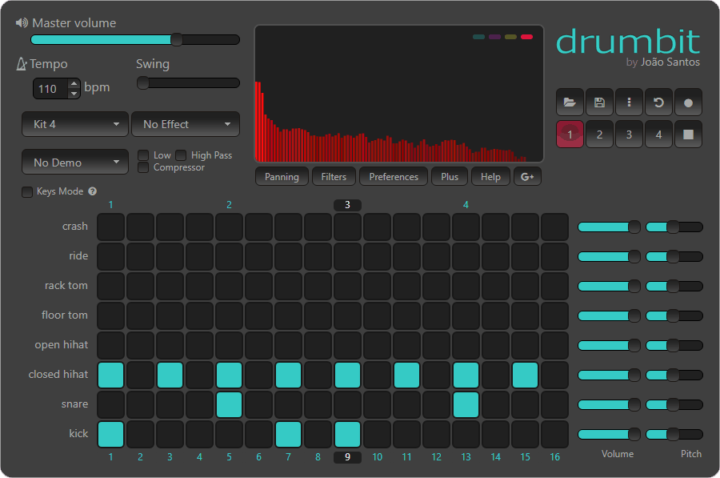 A simple drum machine that offers a range of drum kits. You can create, edit, and save drum patterns.
---
22. WebAudio Drum Machine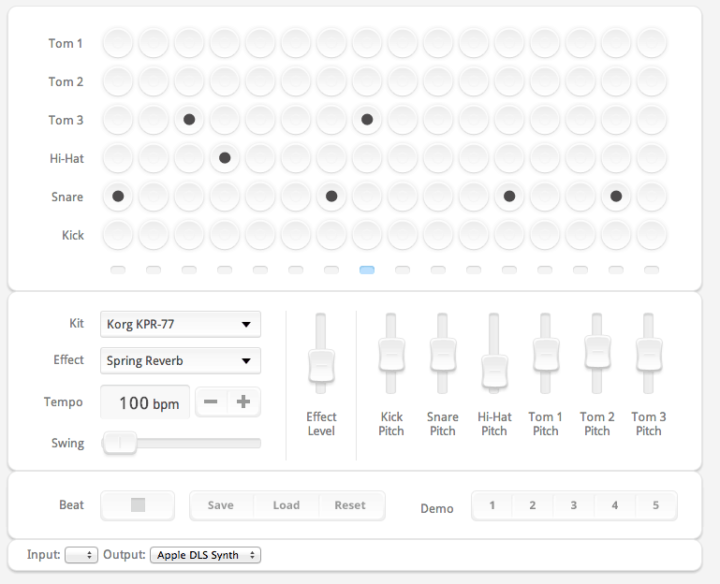 You can create custom drum beats with this online drum sequencer.
Drum kits feature 15 different sounds, and effects feature 26 different options. Pitch can be adjusted for each drum.
---
23. Pattern Sketch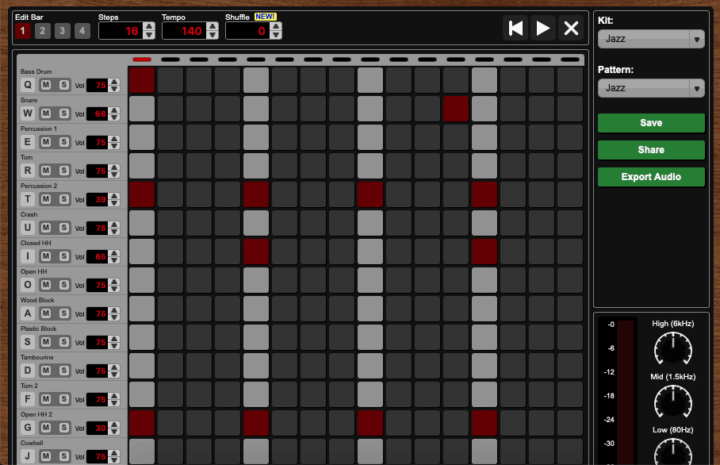 The pattern sketch drum machine and sequencer are modeled after Roland's TR-808 and TR-909 drum machines.
Drum loops can be created, saved, and edited. Import and export patterns in WAV, OGG, and MP3 formats.
9 Drum Kits
15 Drum Templates
Export: MP3, WAV, OGG
---
24. WebX0X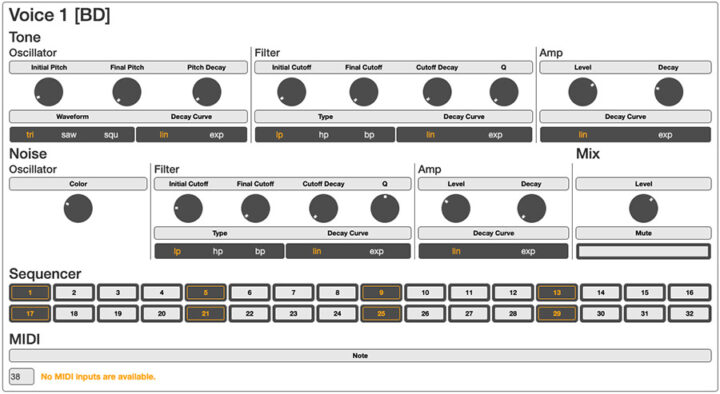 With WebX0X, you can create and play MIDI drums using a MIDI drum synthesizer and sequencer.
All sound creation occurs in the browser without using any samples.
Browsers supported: Chrome, Safari
---
25. Ocean: Make Beats Online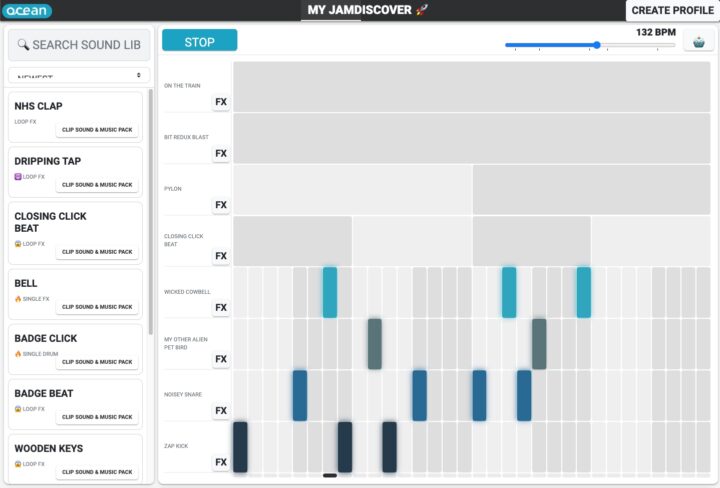 By using Ocean, you can experiment with sounds, collaborate with friends, and make beats for free in your browser.
---
26. Free Online Sampler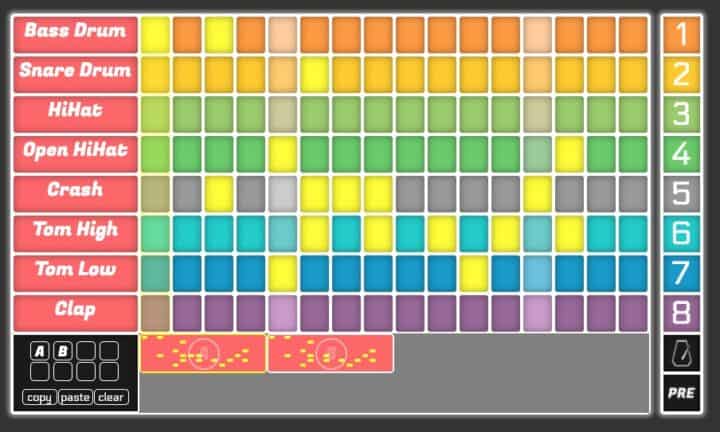 A simple way to create beats online is provided by this online sampler.
8 Drum samples
16 Step Sequencer
6 Drum Kits
Create sharable links
---
27. Typedrummer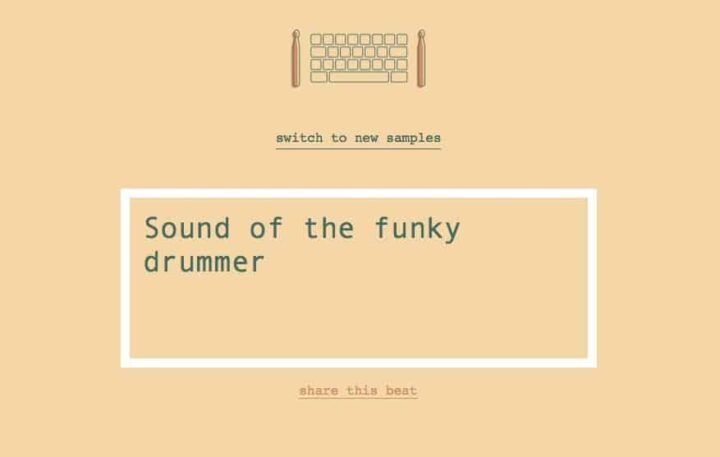 With Typedrummer you can type a message and listen to drum samples.
Load a variety of samples
Create a link that can be shared
---
28. orDrumbox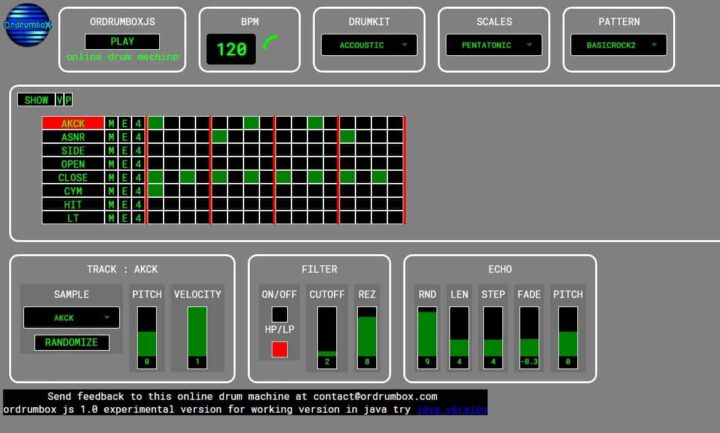 There are a lot of interesting features to OrDrumbox, a drum machine software.
---
29. Sub Chill – Rap Beat Maker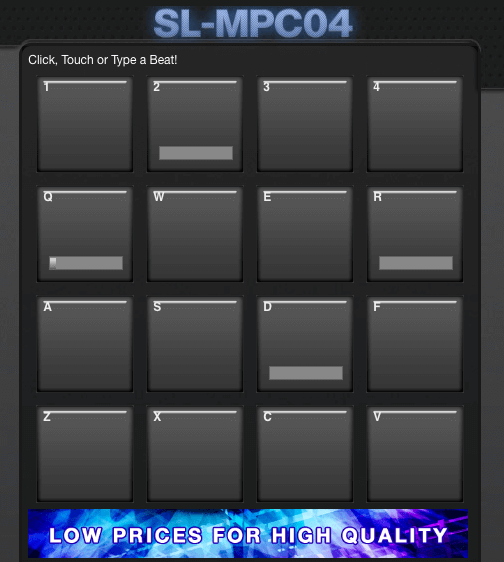 This 16 pad Trap Drum machine comes with a variety of one-shot samples.
---
30. Chrome Music Song Maker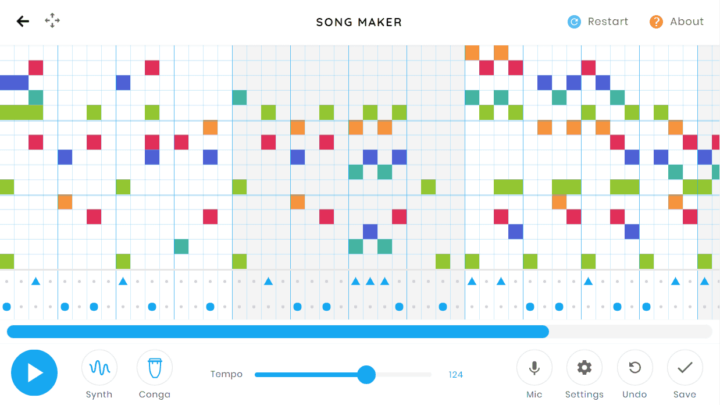 Song Maker by Chrome Music Lab is a simple grid music software with several musical instruments.
Adding notes to a song is as simple as clicking the grid. You can share a link to your song. A MIDI keyboard or microphone can also be used.
You can also use your computer keys. To add or remove notes, press enter or backspace, and to play, press space.
---
FAQs
Can I Make Beats Online?
Yes, there are hundreds of websites you can use to make beats online for free. There are websites with multitrack sequencers, digital instruments, drum machines, and more to produce music online. These online beat-making apps allow you to make beats from any computer or mobile device without having to install the software.
So you can start a beat at work or school and finish it at home
What is the Best Website For Making Beats Online?
The two best free online beat-making apps are BandLab and Soundtrap. They offer a wide selection of music-making tools. They both are very similar offering multi-track sequencers, a variety of musical instruments, drum patterns, audio effects, and much more.
Both BandLab and Soundtrap are very powerful online beat-making apps to try out to see which one you like best.
How Do I Use a MIDI Keyboard?
With the latest versions of Google Chrome, external MIDI devices are supported.
Connect your MIDI keyboard to your computer
You need to restart Google Chrome
Visit a website that supports MIDI controllers
Last, make sure the website you are visiting supports external MIDI controllers. 
Where Can I Make Beats Online For Free?
Here are the best beat-making websites to check out that offer the most features.
Soundtrap
BandLab
Amped Studio 2
Soundation Studio
---
We hope you find these websites to make beats online helpful.
If we missed any online beat-making apps, please let us know in the comments.