Here are the best Free Autotune VST Plugins that can be used with FL Studio, Ableton Live, Logic Pro, and VST supported software. Easily autotune audio vocals.
Tutorial: How to Install VST Plugins
Best Free Autotune VST Plugins
How to Download Autotune Plugins: Click each link below and look around each website for the download link or button. Do not install any suspicious software.
1. Graillon 2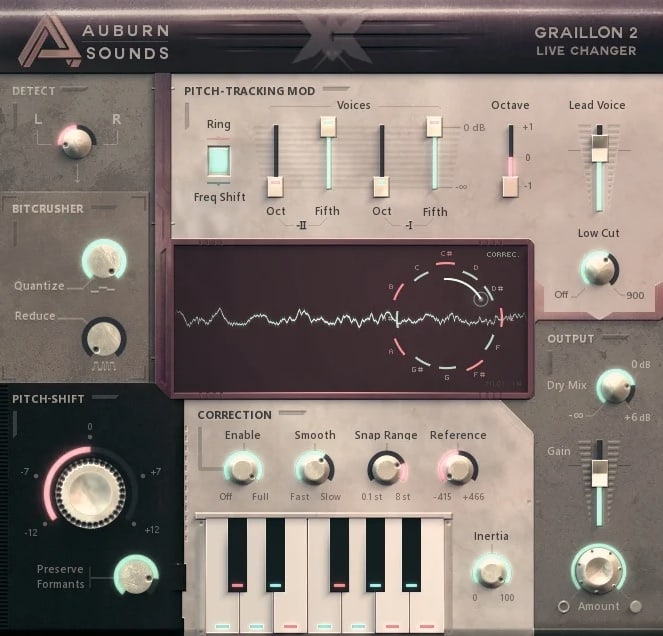 Graillon 2 is a Vocal Live Changer that brings Carefully designed features and a world of possibilities right into your DAW.
With the Pitch-Tracking Modulation, which is unique to Graillon 2, this plugin can change the type of speakers, generate throat sounds, create choruses, make octave sounds, enriches a voice to make it more masculine.
OS: Windows / Mac
---
2. VstSpeek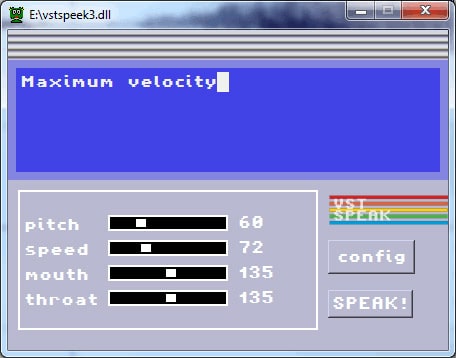 VSTSpeek is a free vocal synthesis VST plugin for recreating the old-school robotic text-to-speech we all love. Choose a preset, type any text and let's speak!
Trigger the speech with MIDI keyboard (velocity-sensitive)
Use MIDI pitch bend
Change original pitch or mouth/throat parameters while it's speaking
OS: Windows / Mac
---
3. MAutoPitch Autotune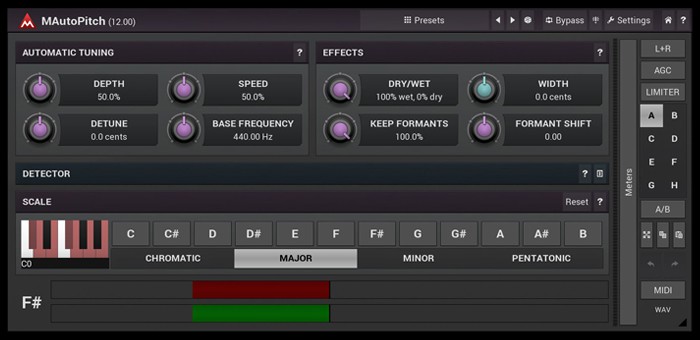 MAutoPitch is a simple but great sounding automatic pitch correction plugin designed for vocals and other monophonic instruments.
Besides making the audio more in-tune, MAutoPitch also provides creative features such as format shift and stereo-expansion.
OS: Windows / Mac
---
---
4. GSnap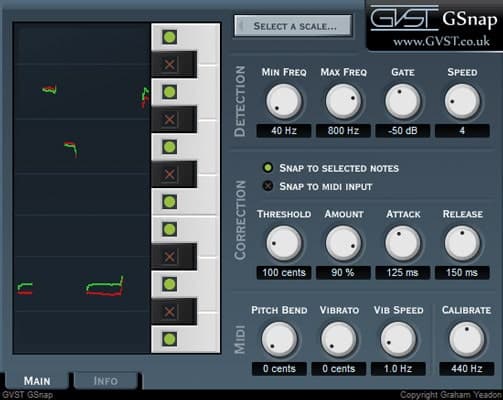 GSnap Free Vst pitch correction.
Use subtle settings to nudge off-key vocals back in line.
Extreme settings can create sounds like the famous T-Pain or Cher effect.
MIDI control mode allows you to fit a recording to a new melody.
OS: Windows
---
5. Autotalent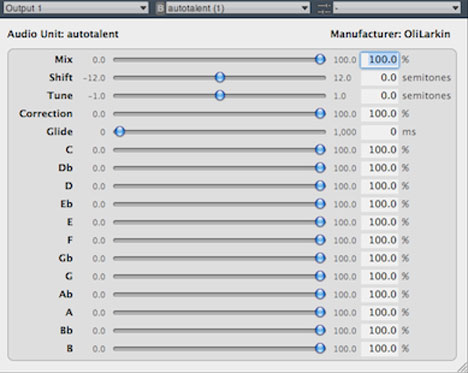 Autotalent by Oli Larkin is a great real-time pitch correction auto-tune Vst plugin. The Autotalent plugin ensures that only the specified notes are hit.
Also, use this auto-tune Vst plugin to make Cher-like vocal effects, or use it as a simple pitch-shifting / pitch correction audio effect.
You might have to disable multiprocessor support in your Vst host for it to work.
OS: Windows
---
6. 4 Band Shifter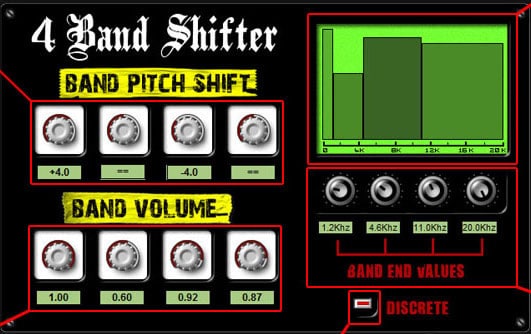 4 Band Shifter by Bitterspring is a free 4-band pitch correction VST Plugin that can independently shift the pitch of 4 adjacent, user-definable frequency bands.
Also, the Pitch correction range goes from -12 semitones to +12 semitones).
OS: Windows
---
7. Son of a Pitch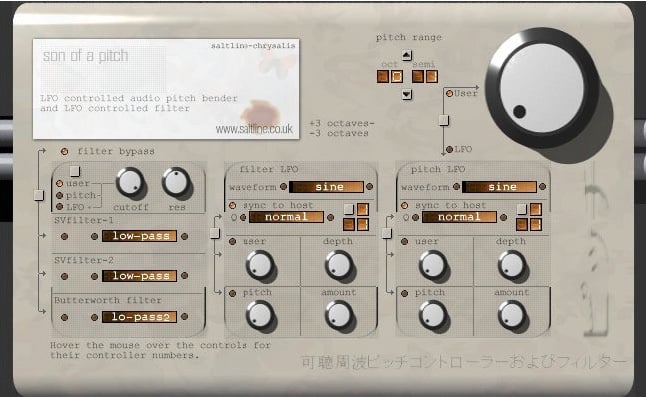 Son of a pitch is an audio pitch-bend effect. The pitch of the incoming signal can be controlled by the pitch knob or by a sync to host LFO.
Its pitch knob ranges from +3 octaves to -3 octaves of the original pitch.
The effect also features an LFO controlled filter section.
There are 3 filters to choose from, 2 SV filters and a Butterworth filter. Filters can be bypassed by sending the dry signal straight to the pitch bender.
OS: Windows / Mac
---
8. Autotune Evo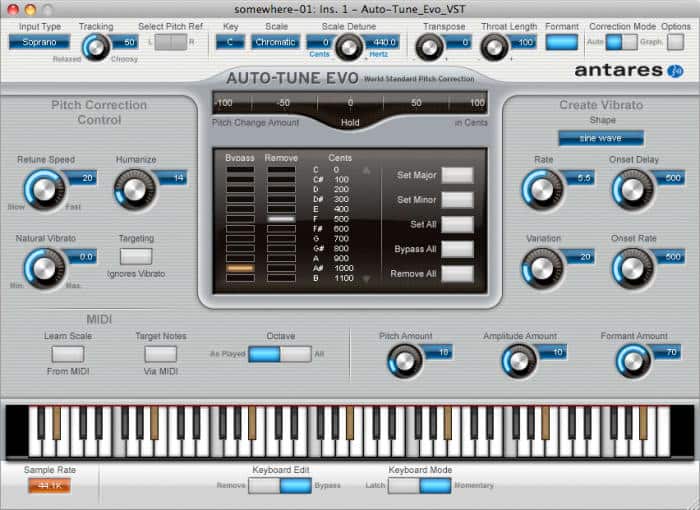 Autotune Evo provides two different approaches to pitch correction.
For most common pitch problems (and correcting live performances in real-time), Autotune Evo's Automatic Mode instantaneously detects the pitch of the input, identifies the closest pitch in a user-specified scale.
OS: Windows / Mac
---
9. Multiply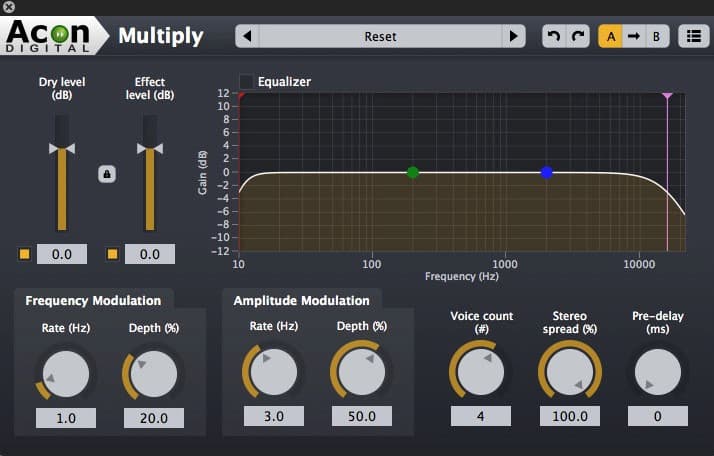 Multiply is a free and versatile chorus effect with a unique twist. Each simulated voice is processed with a phase filter so that unpleasant comb filter effects are avoided.
The effect can be used to simulate the effect of several performers playing the same tones simultaneously.
OS: Windows / Mac
---
10. DSP 2 Vocal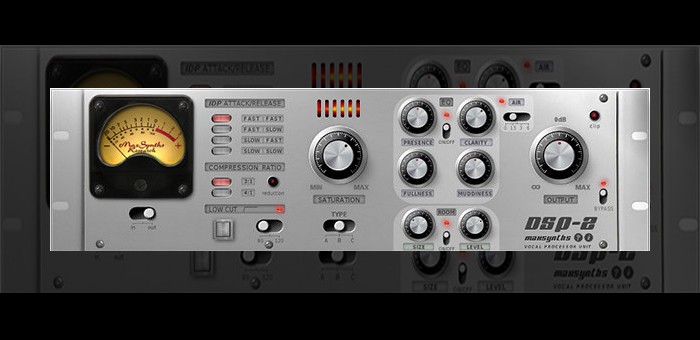 DSP 2 Vocal is a high precision insert effect for vocal processing and also includes an Intelligent Dynamic Processor, a saturator, a four-band equalizer fixed on vocal key frequencies, and a room emulator based on the Schroeder reverberator.
It has been designed to be an easy-to-understand solution for all your vocal processing needs.
Intelligent Dynamic Processor (IDP).
4 different automatic operative modes.
Selectable compression ratio.
Saturator with three different operation modes.
EQ fixed on vocal key frequencies.
Room emulator based on Schroeder reverb model.
Transparent increment of the perceived volume level.
High precision input/output VU-meter.
Low CPU usage.
OS: Windows
---
11. Old Skool Verb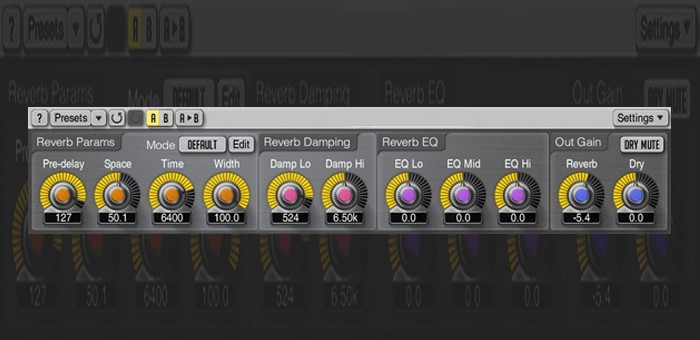 Old Skool Verb is an algorithmic reverberation for professional music production applications.
Plate, room, and hall reverb.
Undo/redo history.
All sample rates support.
Stereo processing.
A/B comparisons.
Zero processing latency.
Preset manager.
Contextual hint messages.
OS: Windows / Mac
---
12. Vocal Finalizer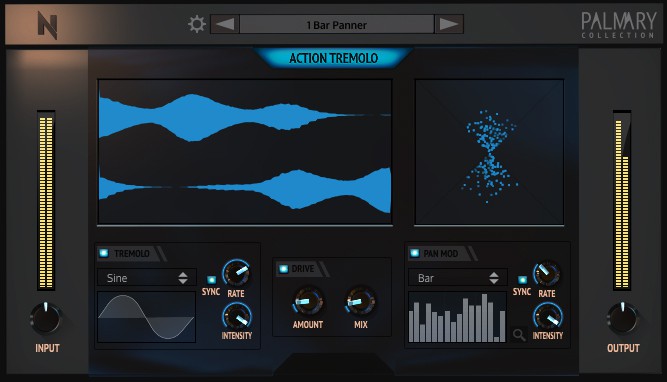 Vocal Finalizer is designed for holding "Vintage & Modern Characters.
It combines simplicity, Wide Range Usability, and Time-Saving properties" Carefully crafted pieces are used in this combination to give you everything you need to reach a final ready-to-mix vocal sound from a raw vocal track.
NoiseAsh's Magical, Fast, Analog Quality All in One DSP Engine
Simplified controls, lots of creative possibilities.
3 types of Vocal Specific Compressor/Limiter unit.
3 types of Vocal Specific Tempo sync stereo delay unit.
3 types of Vocal Specific High Definition Reverb unit.
3 types of Vocal Specific Stereo Doubler – Chorus modulation unit
OS: Windows / Mac
---
13. VocEQPro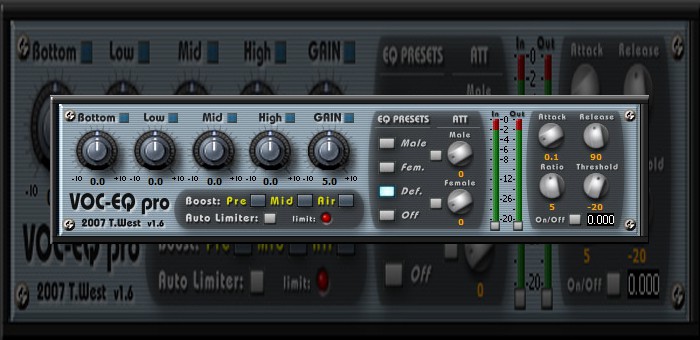 VocEQPro is a special vocal equalizer. It is specially tailored for musical needs – simply type in your lyrics, and then play on your MIDI keyboard.
It's a true synthesizer, the sound can be extensively modified for easy and expressive performances. Voice banks come in various styles and licenses.
OS: Windows
---
14. Vocal King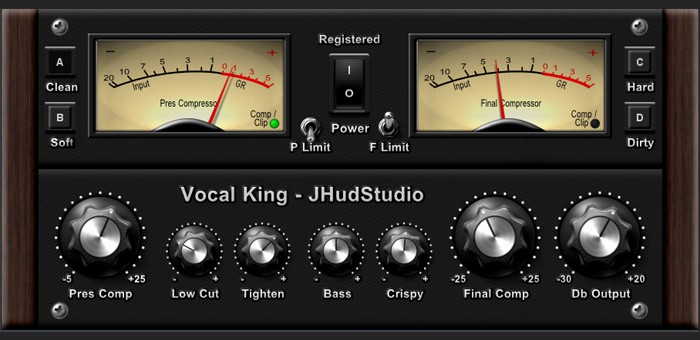 The pres compressor knob is the main workhorse of the Vocal King.
Turning the pres knob up turns up the gain and brings out the presence in the vocal along with giving it a smooth compression.
OS: Windows / Mac
---
15. EasyVox Autotune VST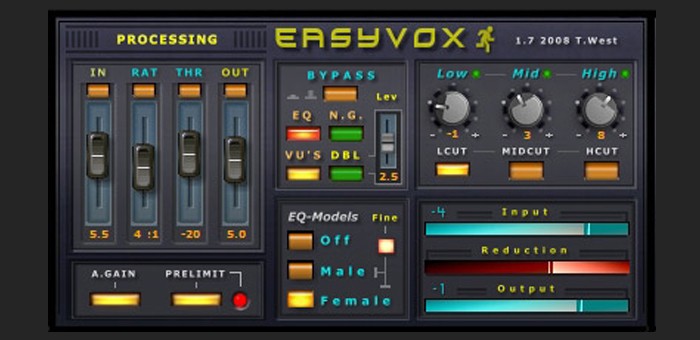 EasyVox : Simplicity for vocals.
Dynamic mono vocal compressor, limiter, enhancer
Three bands equalizer
Autogain and Pre-Limiter
Auto Noise Gate
Auto Band-off
OS: Windows / Mac
We hope you enjoy these free Autotune VST plugins.
Please share this article and check out more Free VST Plugins.