Here is a collection of free online drum machines to play within your web browser.
These drum machines require no software installation. Simply click one of the links below to visit the website, and play with the different drum sounds. Enjoy!
Related: 12 Free Online Sequencers to Make Music Online
Free Drum Machines Online
1. HTML5 Drum Machine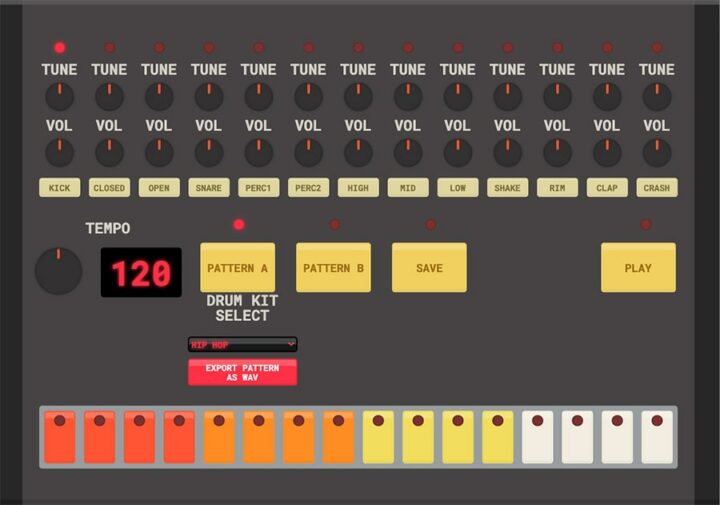 HTML5 Drum Machine is a drum machine emulator app that allows you to create, save and download drum loops in your browser.
---
2. iO-808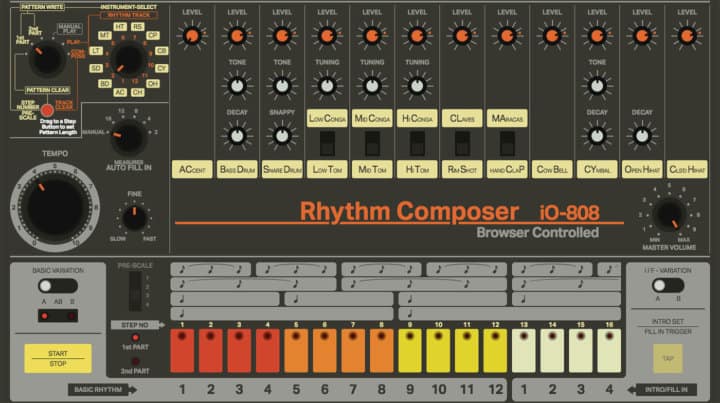 A fully recreated web-based TR-808 drum machine using React, Redux, and the Web Audio API.
---
3. WebAudio Drum Machine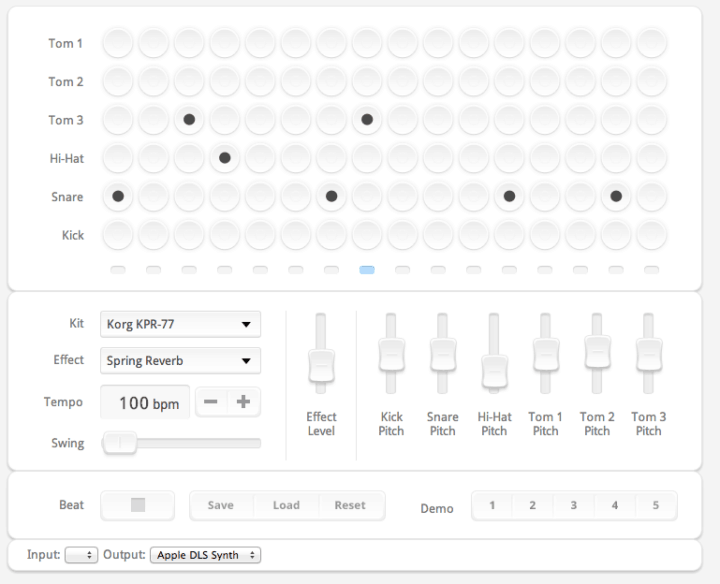 Create custom drum beats with a few clicks. Choose from 15 drum kits and 26 effects, and adjust the pitch of each drum.
---
---
4. Drumbit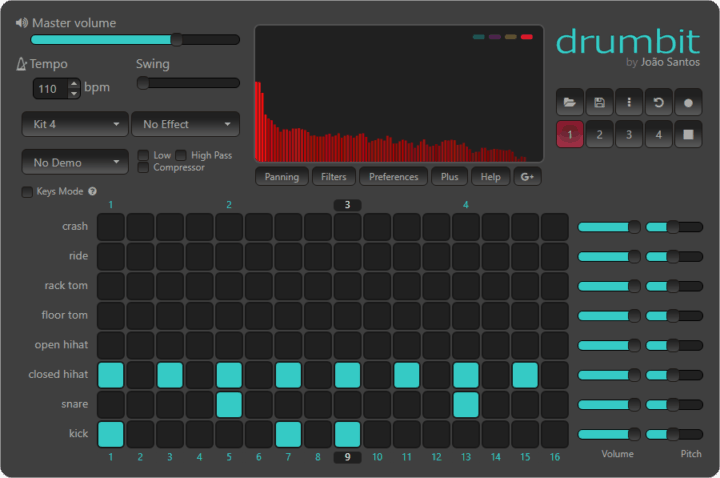 A very easy-to-use drum machine. You can choose from various drum kits, create, save and edit your drum patterns and record them as audio files.
---
5. Sampulator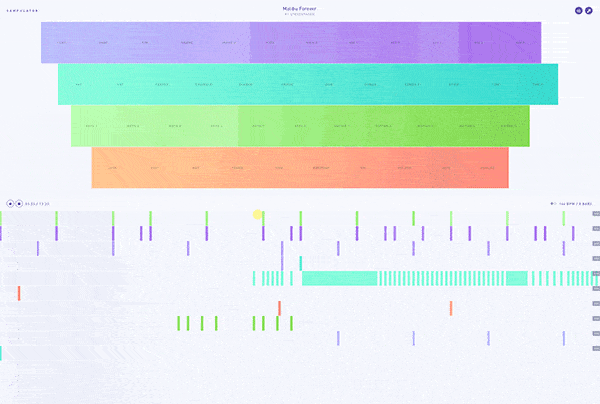 Music production made easy. Create beats in your browser.
---
6. Pattern Sketch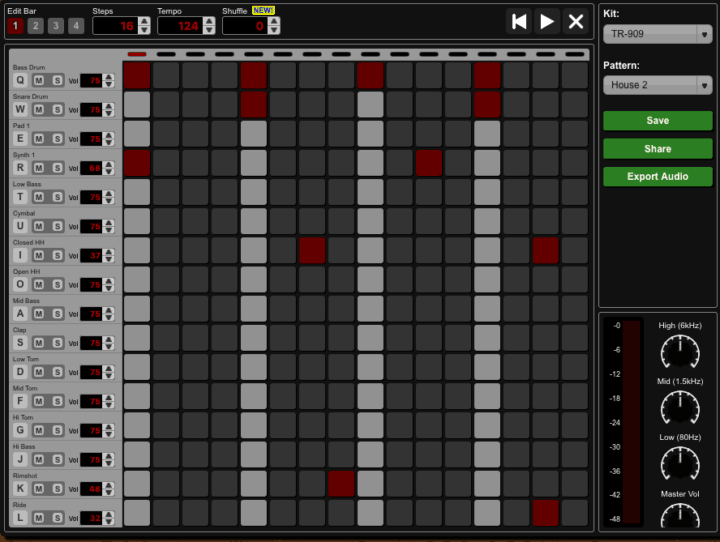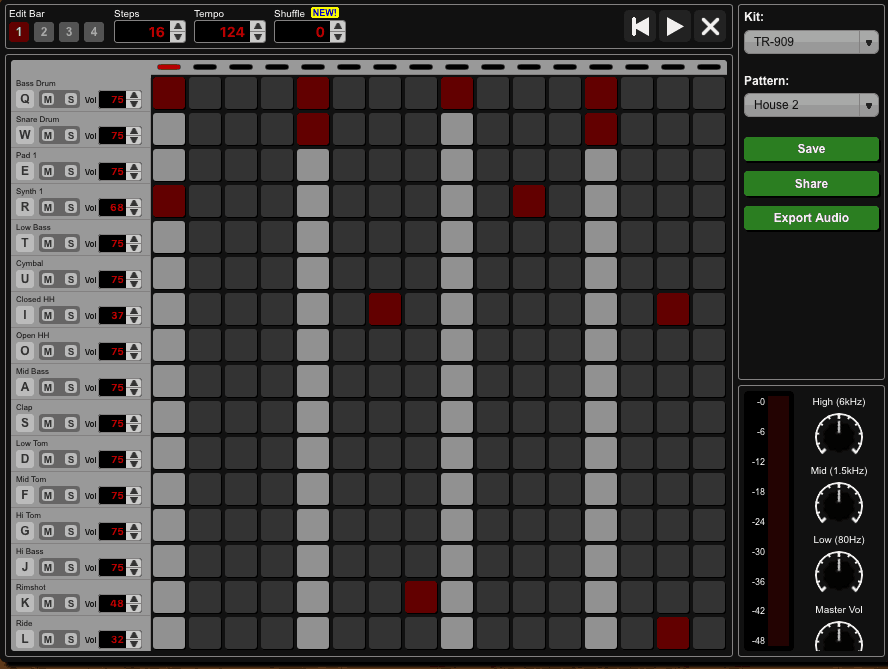 Online HTML5 drum machine and sequencer influenced by Roland TR-808.
---
7. Sub Chill – Trap Drum Machine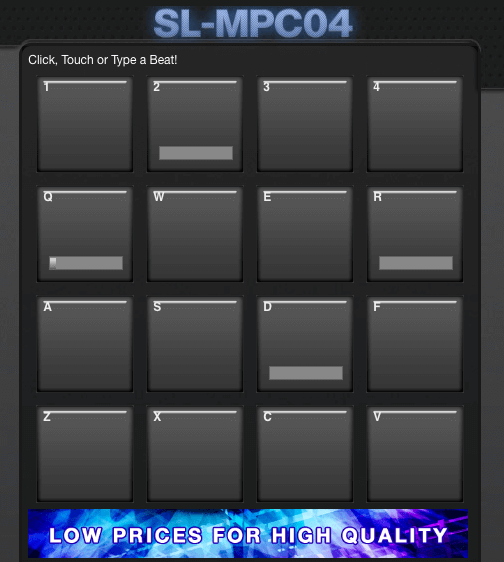 This Trap Drum Machine showcases some one-shots from "Sub Chill" added to our online drum kit.
You will find in the product many variations of these one-shots included for Ableton Live and Push, Native Instruments Maschine, Kontakt, and Battery, also included are Logic ESX mapped Instruments and mapped Kits for Reason.
---
8. Onemotion Drum Machine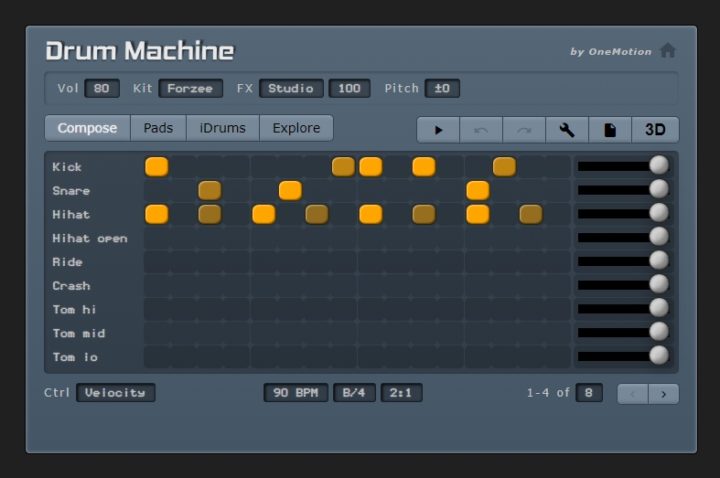 Free full-featured drum machine for smartphone, tablet, and desktop browsers. Create and share compositions. Explore air drumming and filter effects.
---
9. Beatmaker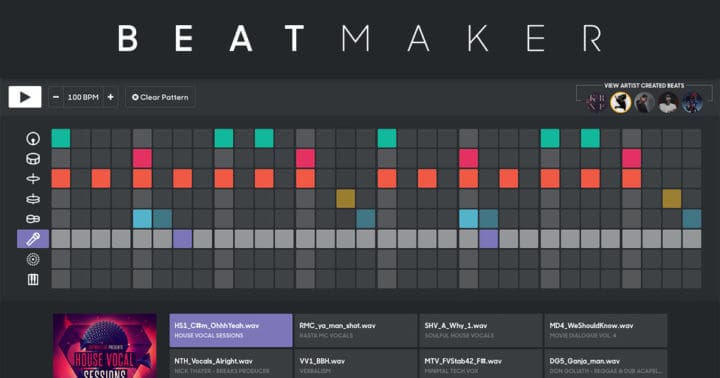 Make and share beats in your browser with samples from Splice Sounds.
---
10. Typedrummer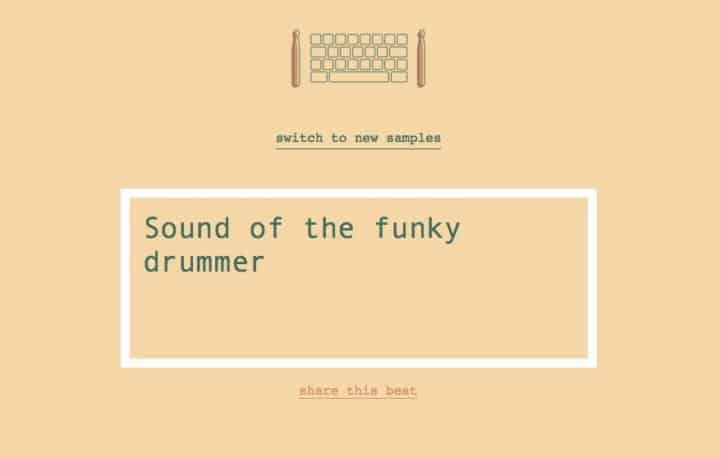 Typedrummer is an instrument for making ASCII beats.
---
11. orDrumbox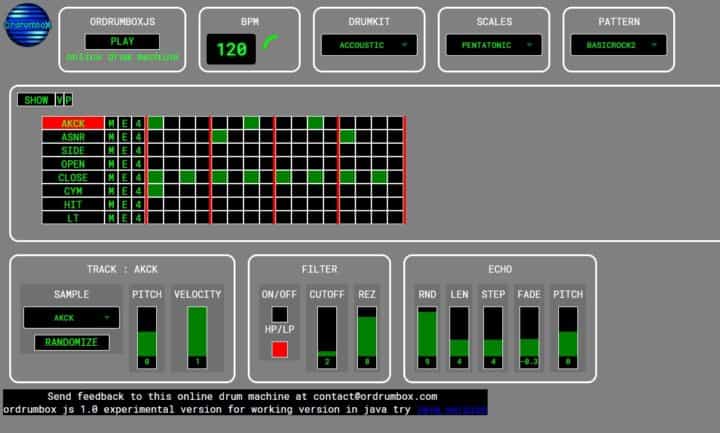 The orDrumbox is a free drum machine software, designed to be as creative as possible with some unusual features: auto-composition, polyrhythms, custom arpeggiator, automatic sounds/track matching, custom soft synths, lo-fi rendering, and more.
---
12. WebSynths Grooves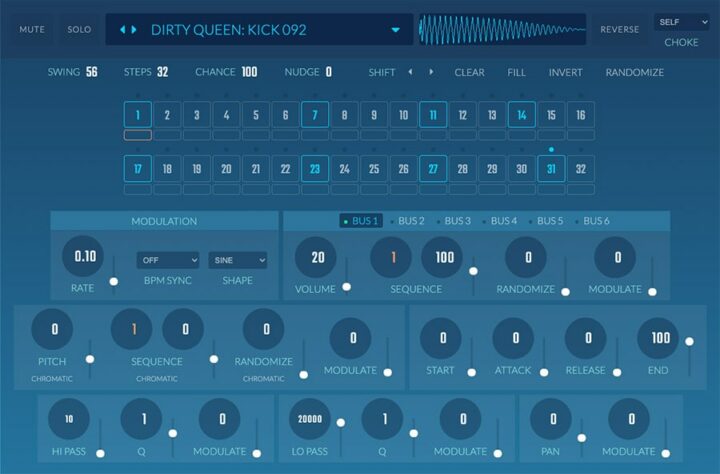 Grooves is a polymetric, browser-based generative drum machine and sample library created by WebSynths.
---
13. Acid Machine 2
Acid Machine 2 is simulated 303 synths and a drum machine for your browser
---
14. WebX0X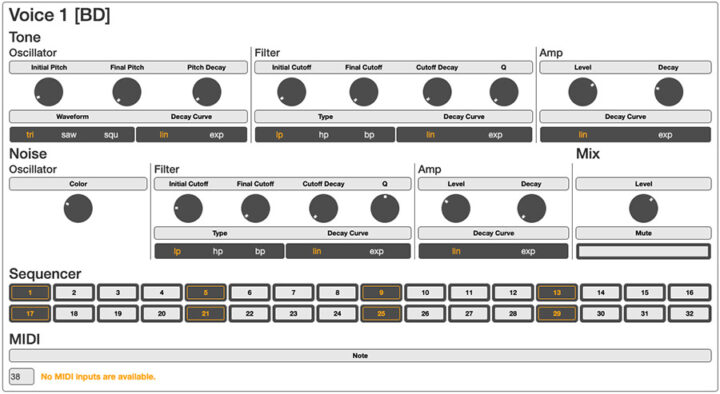 WebX0X is an online drum synthesizer and sequencer built using the Web Audio API.
All sound creation is performed entirely in the browser without samples.
Chrome and Safari are supported on desktop (Chrome works best).
The application has been tested in Mobile Safari (iOS 8) as well.
---
15. Roland 808 & 303 Studio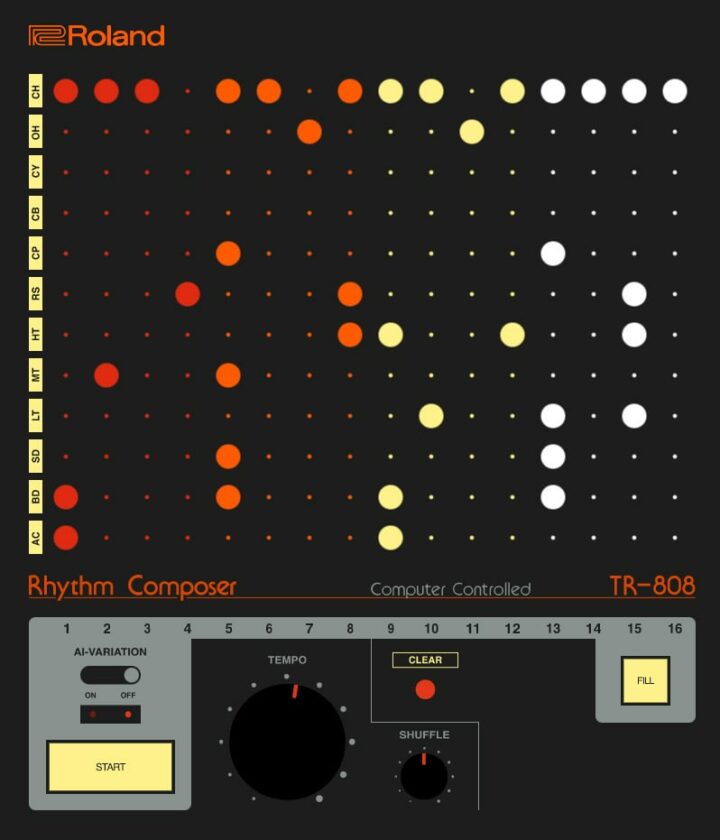 Emulate the sound of an original TR-808 drum machine and TB-303 bass synthesizer on the Roland music creation platform.
---
Additional Drum Machines (7)
---
I hope you have fun playing with these free online drum machines.
Please don't forget to share this article.