Here are the Best Free Synthesizer VST Plugins online that can be used with FL Studio, Reason, Ableton Live, and other VST supported software.
Tutorial: How to Install VST Plugins
Instructions: Click each link below and look around each website for the download link or button. Do NOT install any suspicious software.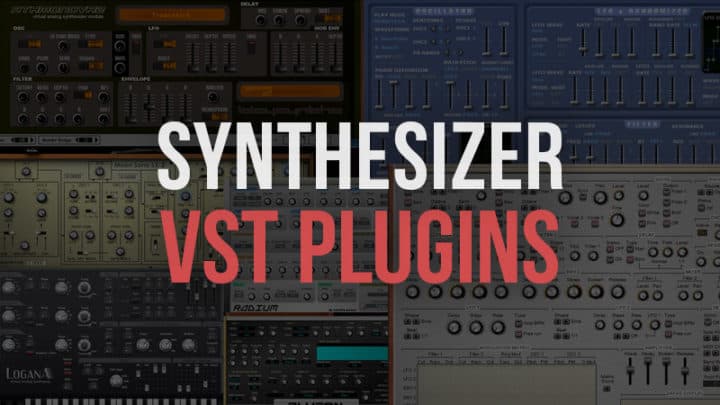 Best Free Synthesizer VST Plugins
1. Athmonova 2 VST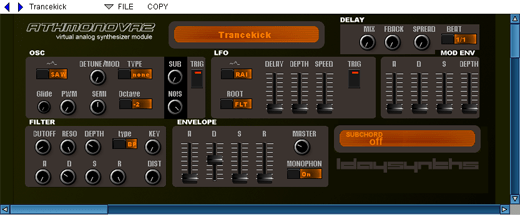 Virtual Analog Synthesizer Module.
1 OSC with saw/tri/pwm + 1 Subosc in different Modis
1 Noise OSC
1 Filter with LP/HP/BP/Formant
1 Lfo with different Routings and Delay/Depth
3x ADS/r Filter/Mod/Envelope
1 Overdrive/Distortion
1 Pingpong Delay
1 Stereo Wider
---
2. VMP1 VST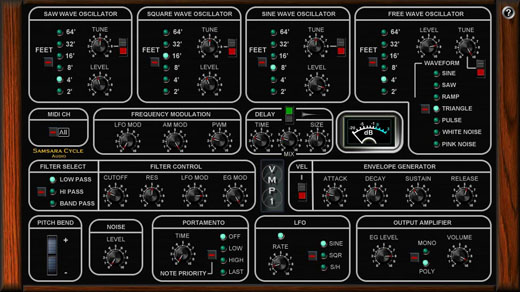 16 Note Polyphonic / Mono
4 Oscillators Saw / Square / Sine / Free
Free Wave oscillator has wave select
Tune for each oscillator + on/off switch
Feet select and volume for each oscillator
White noise level control
Midi Channel selector
Frequency Modulation Section
LFO MOD AM MOD PMW
Filter Section
Filter selector
Low / High / Band Pass
Filter Controls
---
3. Moon Sono Sx VST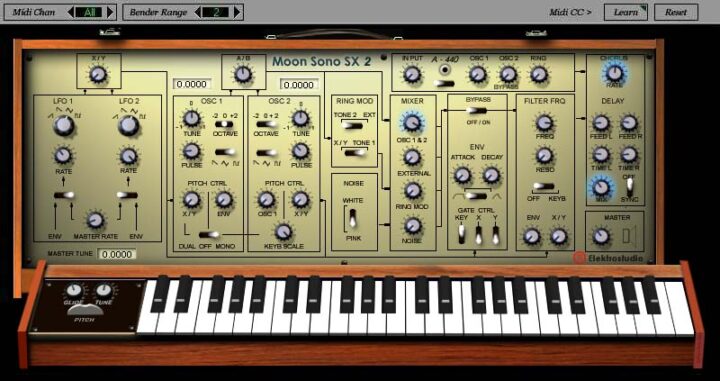 Features two VCOs with changeable waveform (sawtooth, triangle, square, pulse), one low-pass VCF, a VCA, two multimode LFOs for modulation. The Sono is a two-oscillator duo-phonic synth.
---
4. Logana VST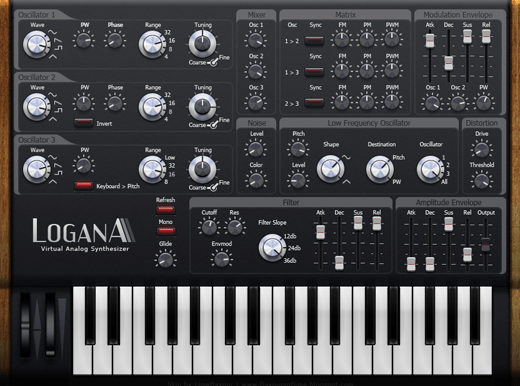 Like futura it uses physical modeling to emulate analog waveforms, but a lot better.
Three analog style oscillators with four waveforms: Sine, Saw, Pulse, Triangle
Noise generator with variable level and color (tone).
Modulation matrix and modulation envelope
LFO with Sine and triangle waveforms able to modulate pitch or pulse-width on oscillator 1, 2, 3, or all of them
Lowpass filter with adjustable slope (12db, 24db, or 36db), cut-off, resonance, and a separate cut-off envelope
Amplitude envelope and overdrive distortion
---
5. Pluton VST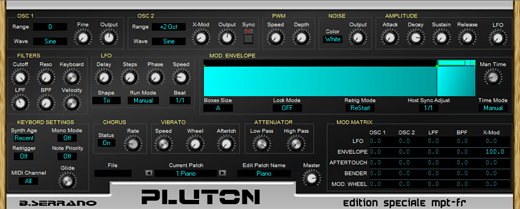 12 voices polyphonic, Full MDI learn implementation, Envelope & LFO Host syncable.
12 Voices polyphonic
2 x Oscillator with 4 waveforms (Sine, Saw, Triangle, Pulse)
Noise Generator (White or Pink Noise)
ADSR Envelope for Amplifier
Full graphic envelope modulation. Synchronizable to the tempo of your host
5×5 Modulation Matrix
Low-pass and Band-pass filters
LFO with 5 waveforms or Random or Off
Chorus effect
Vibrato. Glide
Mono Mode
Master Volume control
70 Presets
---
6. Lektro VSTi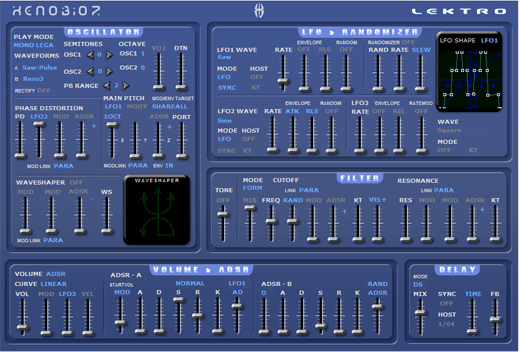 Lektro VSTI is a Phase Distortion Synthesizer with a lot of modulation capabilities.
2 Phase distortion Oscillators
A Waveshaper
3 LFOs of which one can be used as a sub Oscillator.
An LFO waveshaper
A Randomizer
2 ADSRs
A Tone Controller
A Filter with 13 different modes
A Delay
---
---
7. Radium VST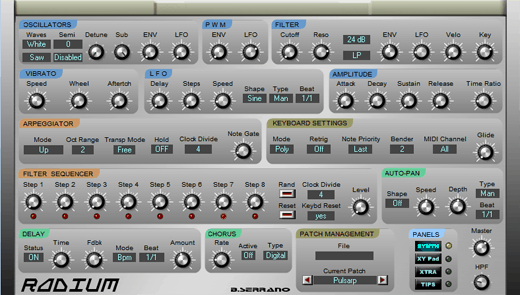 16 voices polyphonic, subtractive / FM 2 operators synth, MIDI learn implementation, Comfortable XY Pad, Auto Pan.
---
8. Anubis 2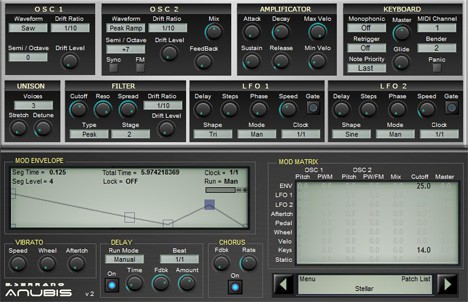 Anubis 2 is a hybrid synthesizer using subtractive, FM, and additive synthesis.
32 voices polyphonic
Unison up to 8 voices
Same waveforms as Dionysos with sync & FM
3 layers multimode filter
2 LFO
1 Mod Envelope up to 32 stages
Drifting effect
Chorus
Delay
9×7 Digital Mod-Matrix
MIDI learn
---
9. Artemis VST
2 unison oscillators.
Oscillators sync and cross-modulation.
White/brown noise generator.
2 HP/LP filters 12/24 DB in serial and/or parallels
2 DADSR mod-envelopes
2 LFO in free-run / Host BPM sync
LFO 1 can modulate LFO 2
Ring modulator
Delay
Resonator
Chorus
6 x 13 digital modulation matrix
Audio routing
MIDI learn
---
10. 1984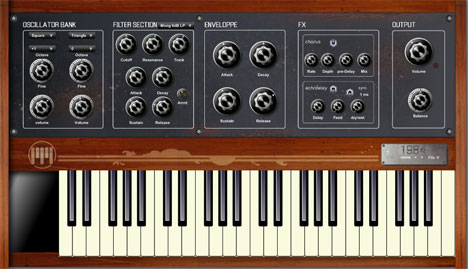 2 Oscillators with many waveforms
1 Filter section including cut off and resonance knobs
1 Enveloppe section with ADSR
2 Fx includes (echo/chorus) with sync
Main level output and panoramic controls
Including 8 original presets
---
11. GTG 44 S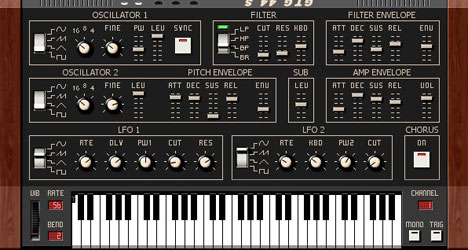 GTG 44 S, Oldskool analog six-voice with a very fat sound.
---
12. 80-vox VST Plugin

This emulation is inspired by the real unit circuits but is not aiming to sound accurate to the hardware synth. No presets just like the real thing.
---
Create a Music Business
Create a professional website to sell beats, products, and music. Offer music services. View Features »
---
I hope you enjoy these free Synthesizer VST plugins.
Please share this article and check out more Free VST Plugins.