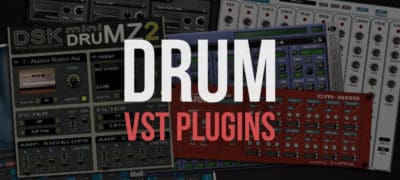 Here are the best Free Drum VST Plugins online that can be used with FL Studio, Reason, Ableton Live, and other VST supported software.

Tutorial: How to Install VST Plugins
---
Best Free Drum VST Plugins
Instructions: Click each link below and look around each website for the download link or button. Do not install any suspicious software.
ErsDrums consists of ten drum sounds: Two Kicks. Two Snares. Two Blipps. One Clap. One Claves. One Hihat (Open/Closed). One Crash.
---
Vintage drum machines rompler. 20 classic drum machines kits. All sounds fixed and levels corrected.
---
Acoustic drums module. 85 high-quality samples. 8 stereo outs. Midi automation.
---
---
DigiDrum Pro is a five part drum and percussion VST plugin suitable for most genres of digital music production.
27 classic drum and percussion waveforms. Full VST automation of every sound editing controls .
---
DrumSampler. Pads playable by mouse.Individual reverb send. Auto-mute group. Visual response.Logical layout.
---
---
12 Pad Drum Synth. One Stereo, six Mono Outputs. Generates its own waveforms.
---
JM-1 – Windows
This is the virtual drum machine expressed as VST. This musical instrument was produced in order that the author might wipe away the inferiority complex of "Linn Drum Computer". I have already made three musical instruments now. Although this musical instrument is the third thing, it is exhibited first.
---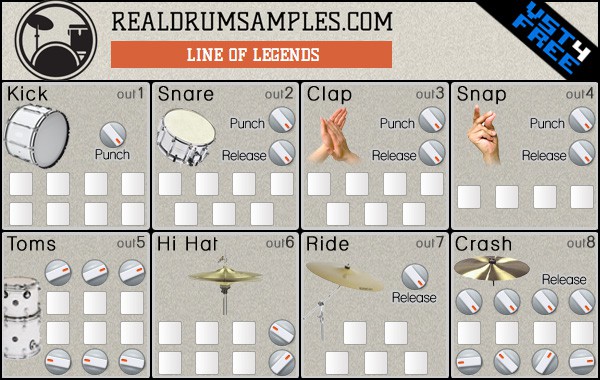 The Line of Legends is a hip hop drum kit. The interface is divided into 8 sections (Kick, Snare, Clap, Snap, Toms, Hi-hat, Ride, Crash). Each section uses its own individual output for easier handling in a productive environment.
47 high-quality samples.
8 individual outputs.
Punch knobs for attack sculpting.
Release and Pan knobs (not labeled).
---
707 – Windows / Mac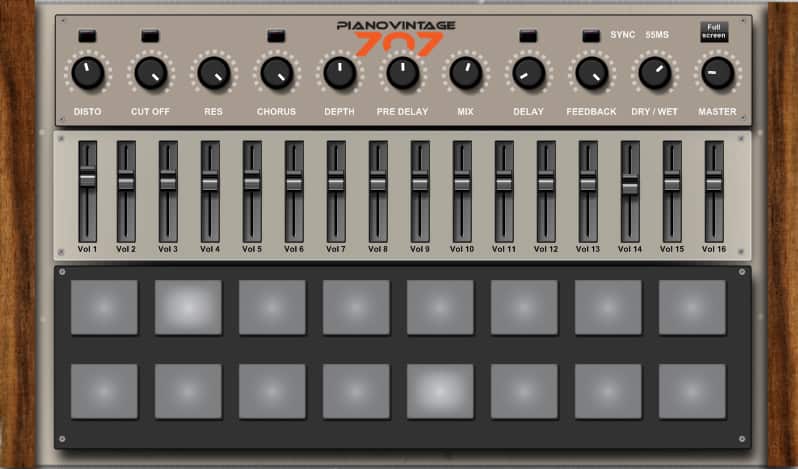 707 is a 16 samples drum kit recorded from the Roland TR707 drum machine.
LP Filter
Distortion
Chorus
Synch delay
---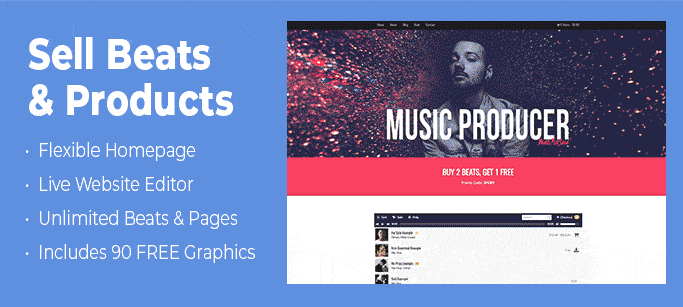 ---
Drumatic 3 is a virtual analog drum synthesizer. All sounds are 100% synthetic and allow enormous flexibility and variation.
Graphical envelopes for amplitude and modulation
Load / save presets for single sounds
Simple but effective effect section for each sound with distortion and bit crusher and a filter.
6 Stereo outputs, assignable for each sound.
All parameters can be automated (midi-CC not yet supported)
---
The MT Power Drum Kit is a free drum sampler offering the powerful, high-quality sounds of an acoustic, realistic drum kit. Samples have been specially recorded and processed to make them ideally suited for use in pop, rock and metal productions.
---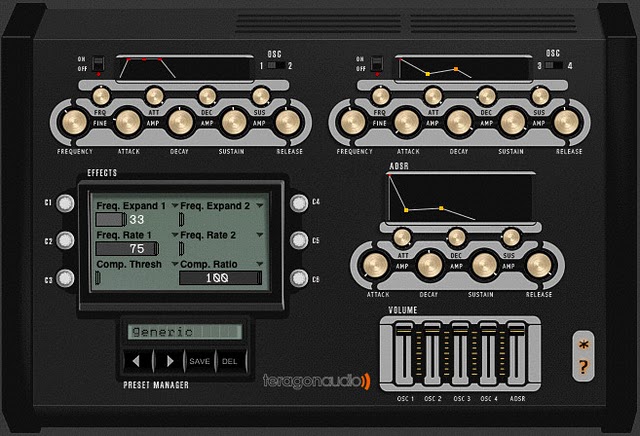 KickMaker is a synthesizer designed specifically to create good kick drum sounds. It uses four independent oscillators and a wide range of effects, allowing one to create perfectly customized beats.
Four independent oscillators
Each oscillator has its own ADSR curve
ADSR curve for mixed signal
---
---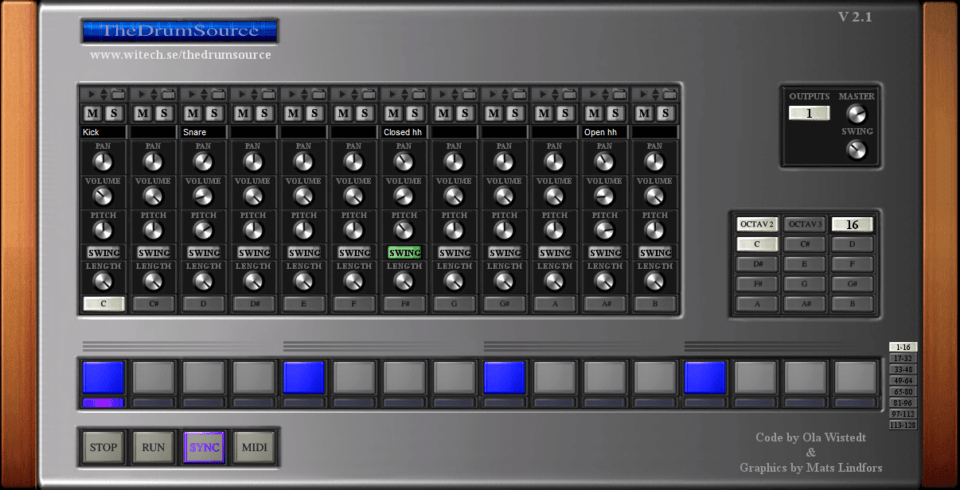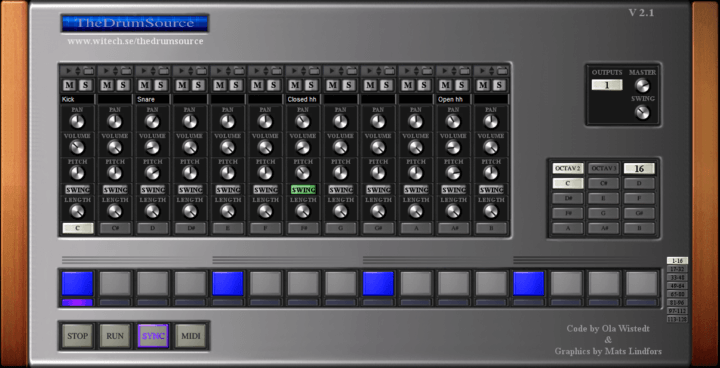 TheDrumSource is a sample based drum machine VST instrument with a sequencer. It looks and "feels" like a classic (x0x) hardware drum machine. The built-in sample browser makes it very easy to navigate through your samples. With the previous and next sample buttons, you can quickly change a sample.
Support for many sample formats (including 24 bit samples): WAV, AIFF, AIFC, AU, SND, RAW, PAF, IFF, SVX, SF, VOC, W64, MAT4, MAT5, PVF, XI, HTK, CAF, SD2, FLAC, OGG
Built-in sample browser suited for an easy workflow when working with samples. And almost all of TheDrumSource's functions is still available while browsing
The sequencer that has 24 sequences for your patterns and each pattern can be a 16/32/64/128 sequence
A GUI that can be resized to suit you screen
Each channel has pan, volume, pitch, length knobs and swing
A sample package created by Mats Lindfors will be included in the installation
A quick button to change the next and previous sample in current directory of the selected sample
12 output channels, one for each sample.
---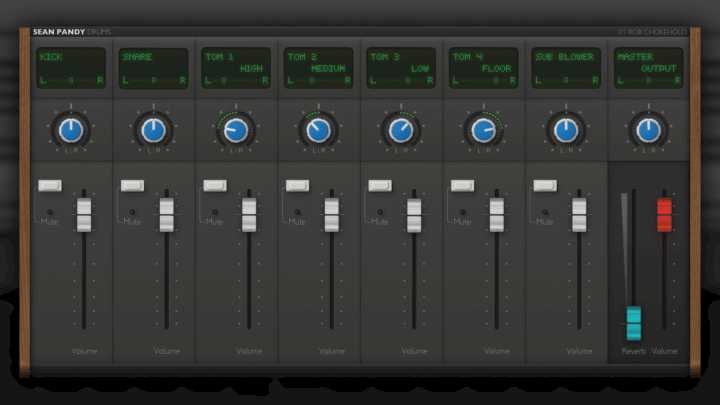 Sean Pandy Drums is a VST/AU drum rompler plugin with Kick, Snare, 4 Toms – and a Sub Blower that will do exactly as its name suggests.
Every drum consists of 6 velocity layers and up to 10 random-robin samples, that means you should get no machine gun effect even with fast repetitions.
---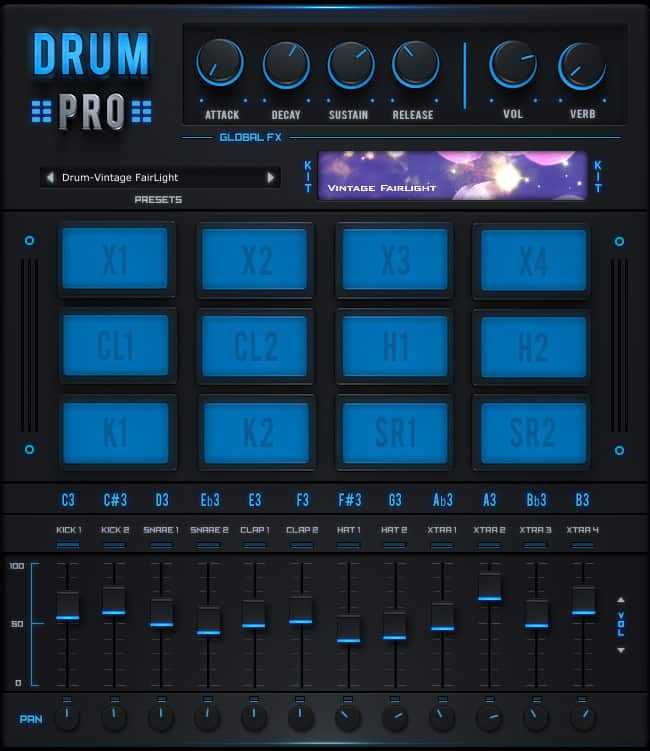 VST drum machine.
---
I hope you enjoy these free Drum VST plugins. Please share this article and join our newsletter for more free VST Plugins.