Here are the best Free Ambient VST Plugins online that can be used with FL Studio, Reason, Ableton Live, and other VST supported software.
Instructions: Click each link below and look around each website for the download link or button. Do not install any suspicious software.
Tutorial: How to Install VST Plugins
Best Free Ambient VST Plugins
1. Avatar ST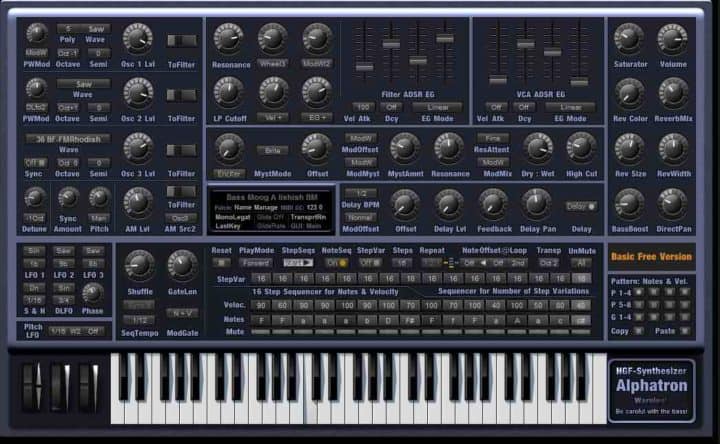 Avatar Ambient VST is most suited for a large variety of pads, soundscapes, atmospheres, or related FX sounds but can do other sounds like e.g. certain kinds of basses too.
The 16-Step Modulator allows sounds to be fairly rhythmical in various ways if required. Also, you can have one section step-modulated while the other is not as there are two complete sections with oscillators, modifiers, VCA EG, Delay, Pan, and Reverb send, plus a grain processor and a multi-mode filter to be inserted via different audio routings.
In addition, there are a lot of modulation options you might select from in order to tailor your sound.
2 x 2 PCM wave oscillators with 384 waves in 3 banks
2 x Osc Mix section with one XY-Pad plus mix option for direct and step modulated out
2 x Mystify with three selectable types (Bright, Soft, Dark).
1 x Grain Processor
1 x Filter with 4 types (LP, HP, BP and Feedback) incl. 1 ADSR EG
2 x VCA EG (ADSR)
2 x Delay, 2 x Pan
7 x LFO, 1 x S&H, 16 Step Modulator, Key track and Mod wheel.
1 semi-parametric 3-Band Stereo EQ, 1 small Reverb for adding some nice flavour
16 voices, 8 Lazy Buttons
OS: Windows
---
2. Darkness Theory 3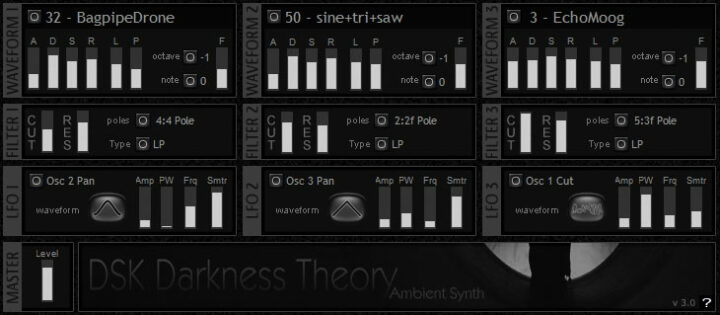 DSK Darkness Theory v3 – Ambient VST music synth.
3 advanced OSC whit 72 waveforms
octave and pan selector
Amp. envelope and micro-detuner
3 HP/LP advanced pole Filter
3 LFO whit output routing
Midi Automation
Velocity Response
+32 Presets
OS: Windows
---
---
3. STS-33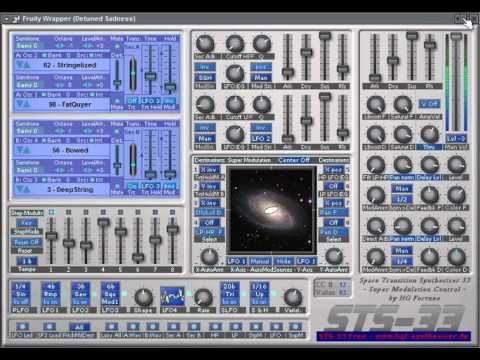 The STS-33 "Space Transition Synthesizer" features the "Wave-Transition" method best suited for atmospheres, soundscapes, pads & textures. 
A straightforward user interface with 10 dedicated"Lazy"-Buttons for randomizing different sets of parameters makes programming easy.
The Transition method plus the new Super Modulation X/Y control pad add a new dimension and motion for an evolving sound changing completely its characteristics. New: Super Modulation X/Y Control Pad to modulate up to 8 destinations simultaneously.
OS: Windows
---
4. U.F.O. Zone Edition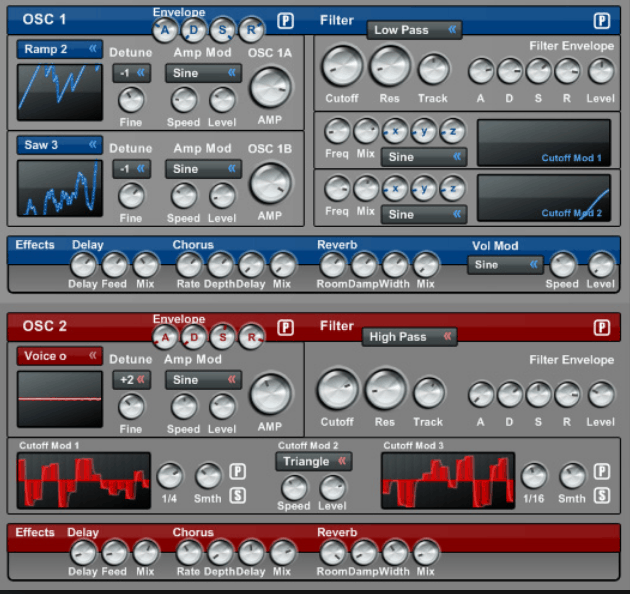 U.F.O. Zone Edition is a subtractive synthesizer with 3 oscillators capable of many types of sounds.
3 oscillators with 36 waveforms.
2 SVF filters.
2 delay, chorus, and reverb FX.
Quick sub preset for ADSR envelope.
Preset randomization system.
Subpreset saving, loading (save OSC, filter, or effects setting for use in different preset).
51 presets in 5 subcategories (atmosphere, effects, pads, instruments, and synths).
OS: Windows
---
5. Alien Artifact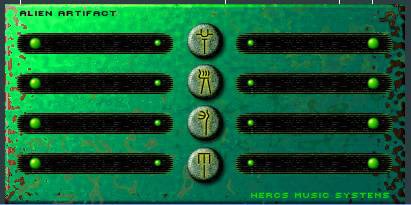 Alien Artifact is a VST synth intended to inspire raw sonic creativity.
OS: Windows
---
6. Atmos

Atmos is an Ambient VST piano ROMpler. This is a Grand Piano sampled from C2 to C9 and processed with two types of reverb, distortion, and delay, complemented with an extra sound layer (FX).
86 samples.
Gain, pan, LFO rate, LFO depth, reverb and pitch bend controls.
Low CPU usage.
Easy to use.
100% royalty free.
OS: Windows / Mac
---
7. Sophia VSTI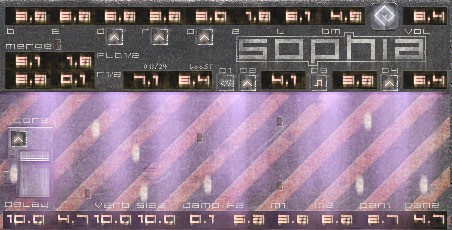 Sophia VSTI is a unique virtual synthesizer that excels in creating intriguing ambiances and modulated sound effects.
OS: Windows / Mac
---
8. Vurtbox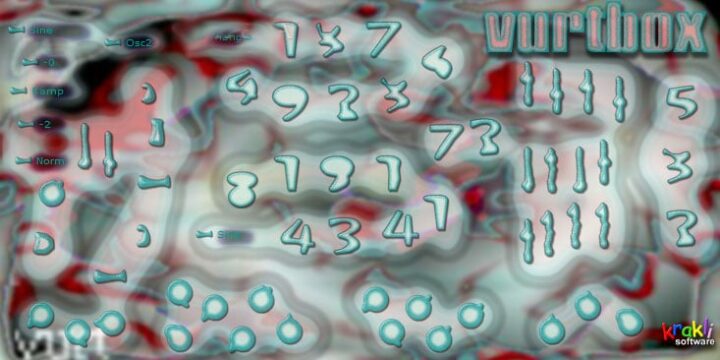 The sounds are surprising and the GUI is bizarre! This release contains 32 presets from Vurt and 16 from Tim Conrardy.
Please note that this synth is capable of consuming HIGH levels of CPU also note that in some cases the output can be very loud so take caution with your speaker levels.
OS: Windows
---
9. Astralis Baby Bion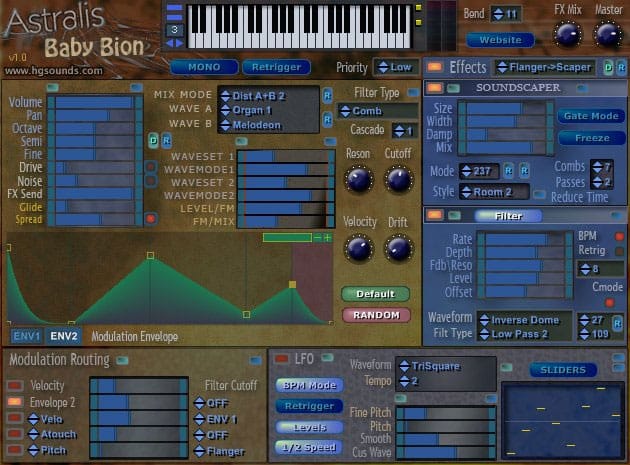 Baby Bion is a lightweight Synth using the Oscillator from the forthcoming Astralis Bion. It was designed primarily with SoundScaper in mind, the free FX plugin from sounds that can create Complex Undulating Collages.
Baby Bion adds a Synth to create the Sound Source, as well as Flanger/Filter, a complex LFO, and a couple of 32 stage Envelopes. Although it specializes in Soundscapes and Atmospheres, it can also be used as a general Lightweight Synth, the uniquely developed Dual Oscillator provides over 3500 different waveforms which can be mixed in many flexible ways including FM.
Dual Oscillator – The Oscillator provides 2 waveforms that can be mixed using on of the many modes which include A+B, A-B, Various FM Modes, Dual Pitch, Split and Distorted.
Filter – Cascadable up to 8 times and includes Low Passes, Hi Passes, Band Passes, Comb, Low Shelf, Hi Shelf, and Peak.
32 Stage Envelopes – Capable of Repeating Sections, One Envelope is for volume and the second is for the Filter and general-purpose, assigned via the Modulation Routing.
Drive – Auto Volume Distortion
LFO – Uniquely Developed LFO with standard Shapes, plus custom shapes with Smooth Control.
SoundScaper – Comb / Delay / Reverb Effect for creating interesting soundscapes.
OS: Windows
---
10. Cosmogirl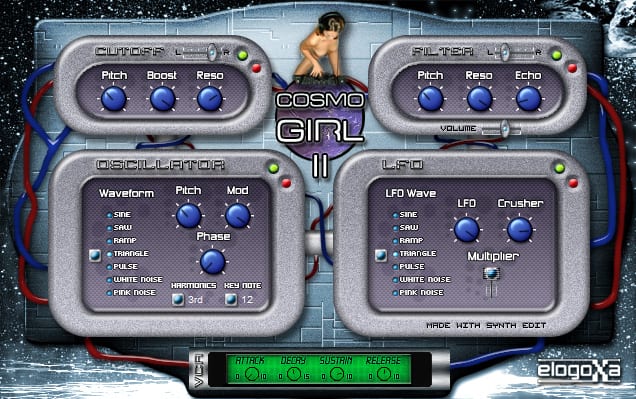 Cosmogirl is a 2 oscillator analog style synth, specially geared to the creation of spatial FXs, ambient textures, and experimental music.
OS: Windows
---
11. Gargoyle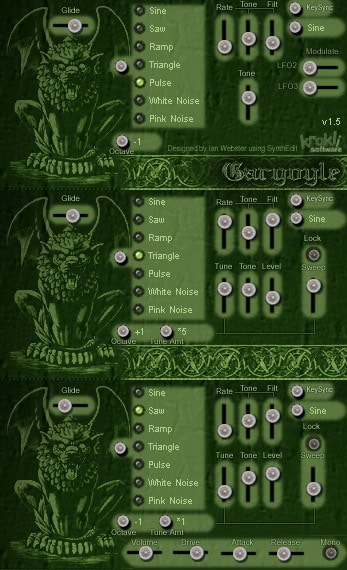 Inspired by a request for a vst that could be used for a Horror film Soundtrack. This synth is dedicated to its namesake. A guy whose generosity knows no bounds.
OS: Windows
---
12. Gargoyle 2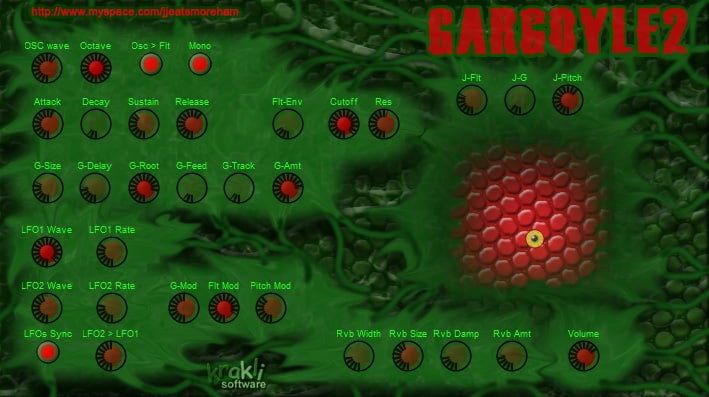 Gargoyle2 is a noisemaker. It is designed to appeal to sound designers or those that just like hitting notes and moving controls. Fans of the original Gargoyle synth will find this one a new "challenge".
OS: Windows
---
We hope you enjoy these free Ambient VST plugins.
Please share this article and check out more Free VST Plugins.