Here are the best Free Electric Guitar VST Plugins online that can be used with FL Studio, Reason, Ableton Live, and other VST supported software.
Tutorial: How to Install VST Plugins
Instructions: Click each link below and look around each website for the download link or button. Do not install any suspicious software.
Best Free Electric Guitar VST Plugins
Boogex – Windows / Mac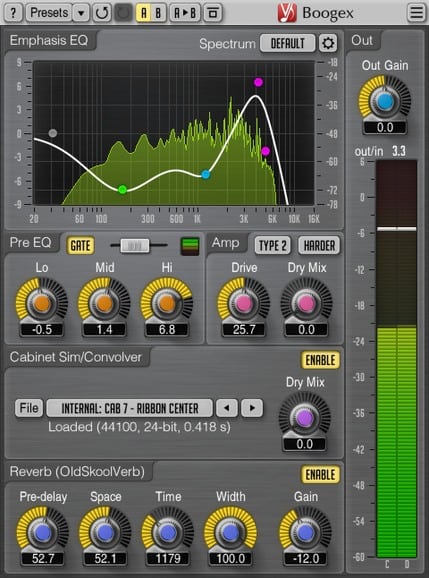 Boogex is a guitar amplifier effect AAX, AudioUnit and VST plugin with a variety of sound shaping features for professional sound and music production applications. Boogex produces a nice "minimalist" sound which may be a bit noisy at higher drive settings, higher frequencies can be easily suppressed with its built-in Emphasis EQ.
Real-time guitar processing
Speaker cabinet simulation
Mono convolution processing
---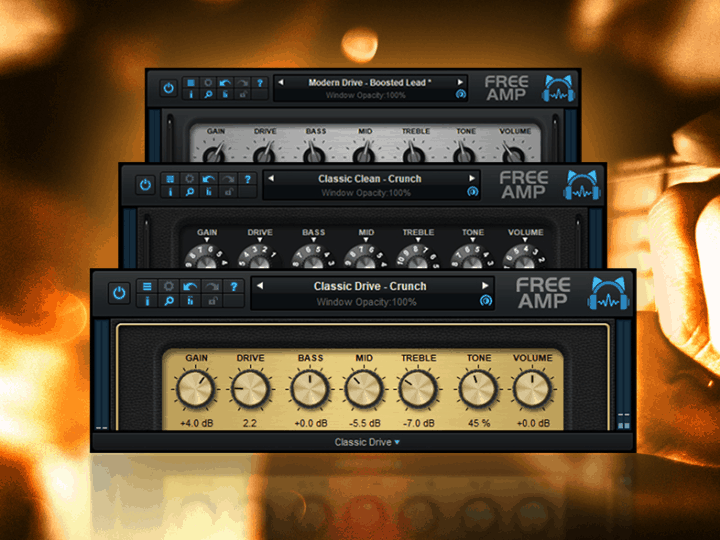 Inspired by legendary guitar amplifiers from the real world, the included "classic clean", "classic drive" and "modern drive" amp models cover a wide range of guitar amp tones, from clean vintage sounds from the early days of electric guitar to modern high gain metal tones.
Free guitar amp simulation plug-in.
3 amp models inspired by legendary amplifiers: "classic clean", "classic drive" and "modern drive".
Simulations based on the destructor dynamic distortion and amp modeling engine.
Load you own cabinet or reverb impulse responses to add color to the amp simulation.
No latency.
---
NRR-1 – Windows / Mac


The NRR-1 a digital emulation of a three channels tube preamplifier for guitar. It has been developed to accurately model its real hardware counterpart, built for Fleshgod Apocalypse guitarist Cristiano Trionfera by Ignite Amps, back in 2009.The NRR-1 core circuit is mainly based on a famous boutique preamplifier made in '88, modified to suit Cristiano's needs in the best possible way.
Ignite Amps 3rd generation triode modeling engine.
Three channels: clean, rhythm and lead, each with fully separated controls.
Mono / Stereo processing support.
Selectable oversampling rate (up to 8x).
Global input / output level controls.
Double precision (64-bit) floating point mathematical model.
Fully automated controls.
Ignite Amps proprietary preset management system with bank file import/export functions.
---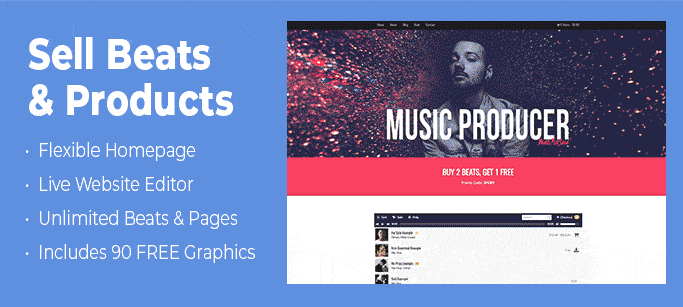 ---
Le456 – Windows / Mac

Le456 is a preamp sim roughly based on a famous German gear. Each channels/modes share the same features. Apart from the usual tone controls (drive, low, mid, high and contour), each channels/modes offer two different tone stacks that can be accessed via the focus switches. Bottom and bright switches can be used to boost the low and the high frequencies respectively. On the low gain channel only (Clean/Crunch), the effectiveness of the bright switch decreases with the gain settings.
2 channels
2 modes per channel
---


The Emissary is a digital emulation of a custom dual channel guitar tube amplifier. It has been developed to accurately model its real hardware counterpart, built for Ryan Huthnance. The GUI is a 3D rendered model of the amp with the same control layout. Every effort has gone into minimizing latency for flawless real-time performance. Check out the linked video for an idea of the immense power it is capable of. We could happily plug into this and while away many hours/days chopping through riffs with glee.
---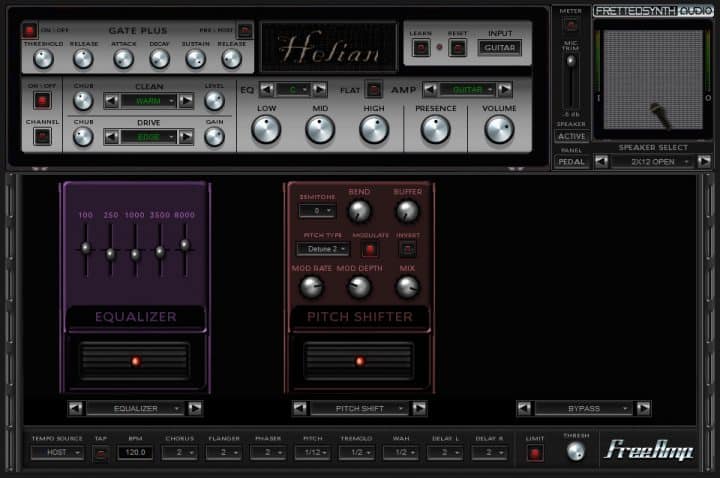 FreeAmp3 by Joseph DeHelian of Fretted Synth Audio is a Windows-based plug-in that boasts wide ranging tone shaping potential. The software boasts built-in amp types, different EQs with independent controls, a guitar synth, various compressors and gates, plus a plethora of effects to get stuck into including delays, reverbs, overdrives, etc. Something like this shouldn't be free, but it is, so fill your boots!
Version three of freeamp with no effects. NOTE all versions of freeamp are different.
---
---

Kuassa Amplifikation Lite enables you to create ultra-realistic sounding guitar sounds by simply plugging your guitar to your computers sound card input. Get high-quality guitar tracks with a simple interface and non-obstructive workflow using Amplifikation Lite.
3 channels (clean, rhythm, lead).
9 Parameters: Input, Channel selector, Gain, Bass, Middle, Treble, Presence, Volume and Cabinet On/Off.
---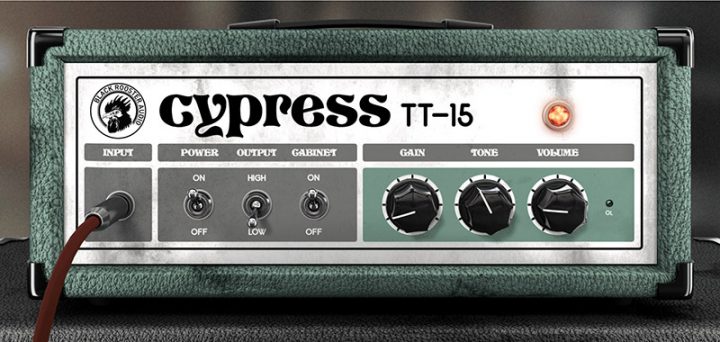 Black Rooster Audio's guitar amp head emulation meticulously modeled after a very versatile, yet uniquely sounding low wattage amplifier the Black Rooster Audio Cypress TT-15 comes to you at an unbeatable price point: It's free! With its no-nonsense approach and only six intuitive controls, the Cypress TT-15 will help to get the job done right away, no matter if you're looking for clean through crunchy guitar tones or if you want to achieve biting, distorted lead sounds. We also included a simple 2×12 cabinet simulation that can be bypassed if you prefer other solutions or if you're feeding into an external power amp/cabinet stage.
---
Studio Devil British Valve Custom is a FREE guitar amp modeling and audio effects plug-in for use with VST, Audio Units, and Pro Tools RTAS compatible hosts running on both Mac and Windows platforms.
British High-Gain Amp emulation based on Marshall® stack!
Power Amp Drive Controlto adjust natural power amp compression.
Built In 4×12 Cabinet Emulation!
Realistic Tone Controls: Bass, Mids, Treble, and Presence
Professional Sampling Rates: 44.1kHz, 48kHz, 88.2kHz, 96kHz, 176.4kHz, and 192kHz support!
4X Up-Sampling Engine with 64-bit Floating-Point Internal Precision
Compatible with Windows and Mac VST, Audio Units and ProTools RTAShosts!
---
---
Ace – Windows / Mac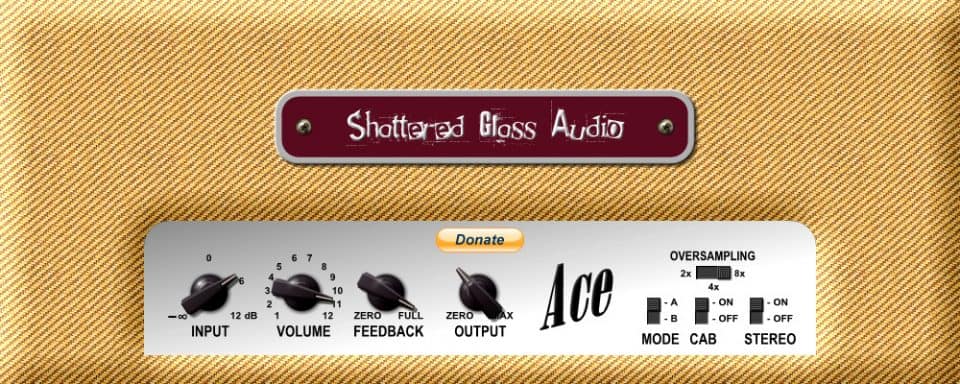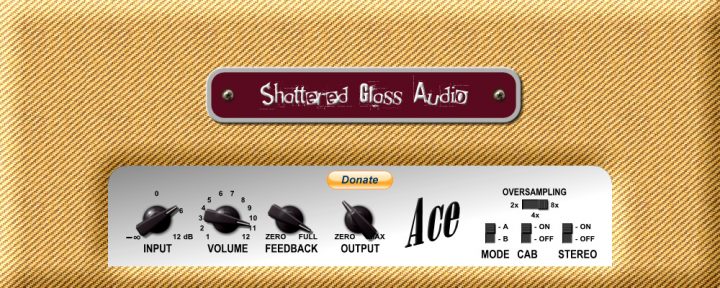 Ace is a faithful digital emulation of a legendary 1950s, American, all tube, tweed, 5W amp.
Accurate modeling of the whole circuit to capture dynamic interactions between amp stages.
Authentic 12AX7 and 6V6GT vacuum tube models.
Models of the two most common amp mods.
Adjustable strength of the input signal with up to 12 dB boost.
Cabinet simulation that can be switched on or off.
Selectable 2x, 4x, or 8x oversampling.
---
I hope you enjoy these free Electric Guitar VST plugins. Please share this article and join our newsletter for more free VST Plugins.