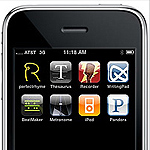 If you are a iPhone or iPod Touch owner and you are into writing music. Here are 8 song writing programs for your mobile device.
The Apple App store is growing with new apps daily, but here are some of our favorites to get your song writing juices going.
1. Perfect Rhyme

Price: $0.99

Size: 4.4MB

What is it?

Perfect Rhyme is a rhyming dictionary with over 130,000 words.

How is it helpful?

This app will speed up your song writing process. It's a little push into the right direction when you have a brain freeze on rhyming words. It's simple to use. Just enter the word, and search. No internet connection required.

Link: View in iTunes
2. Thesaurus App

Price: $0.99

Size: 0.1MB

What is it?

It's a thesaurus. This program hosts a collection of synonyms (Words that basically have the same meaning).

How is it helpful?

The Thesaurus App can help to improve your vocabulary and your song writing skills. To make music more interesting, you shouldn't be using the same words repeatedly to express something. The Thesaurus App will give you new words to express your thoughts, which can potentially lead to new song ideas.

Also check out this great article on "Using a Thesaurus to Conquer Songwriters Block".

Link: View in iTunes
3. Recorder

Price: $0.99

Size: 0.7MB

What is it?

This is a audio recorder.

How is it helpful?

This app was originally made for taking memos, discussions, interviews, etc. But it can just as well be used to record lyrics. Maybe you have a chorus idea in your head. This app will make it capable for you to record your lyrics ideas as they freshly pop into your head while you are on the go.

Also use it to hum out beats, sing a melody, B-box a drum pattern, what ever it may be. Just capture those ideas, before they are forgotten and lost for ever.

Additional features: Capable of emailing audio files.

Link: View in iTunes
4. Shape Writer Pro

Price: Free

Size: 1.6MB

What is it?

This app is a note pad.

How is it helpful?

Maybe you're not a fan of typing on the iPhone or iPod Touch. I admit I'm not. This app has a different way of typing notes. It works by dragging your finger to each letter of the word that you are trying to type. For example if you look at the image, you will see the line where they dragged their finger to spell out FUN. After you drag out the letters of the word, it automatically adds a space for you to drag out the letters of the next word.

I also find the predictive text to be better on this app than I do for the Notes app that comes with the iPhone.

This can really speed up your creative process by being able to type out your ideas faster.

Additional features: You can email these notes to your personal email address within this app.

Link: View in iTunes
5. Beat Maker
Price: $19.99
Size: 149MB
What is it?
Beat Maker is a mobile music creation studio.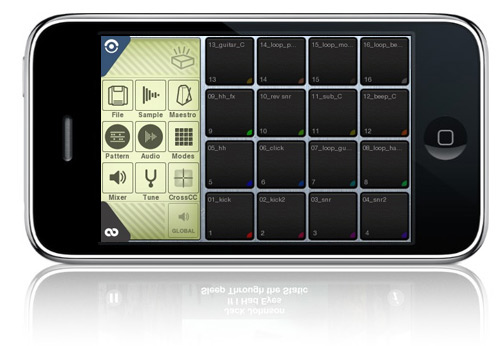 How is it helpful?This software can be helpful when you are out, and you want to lay down a foundation for a beat. This app comes loaded with 149MB of samples, and the ability to make your own kits. Sometimes a drum pattern alone can spark an idea. But if you need more, this app is packed with bass lines, synth loops, piano, scratches and more.This app has characteristics of a drum machines like the MPC. Plus a pattern sequencer that is similar to what you can find in a lot of music software. So if you load it up with your own samples, you can make a beat on it, and then export it to a wav.Link: View in iTunes

Free sample kits:
6. Metronome

Price: Free

Size: 0.2MB

What is it?

A metronome is a practice tool that produces a steady pulse (or beat) to help musicians play rhythms accurately.

How is it helpful?

Everyone's writing style is different.  If making a beat with the beat making software above isn't for you. Just use a metronome to help you with the timing of your lyrics. If you start writing a song without music, this can help you figure out the tempo that you want the track to be. Plus if you're a musician and like to play a instrument while you write. This will help you to improve your timing.

Link: View in iTunes
7. iTunes
Price: Free
Size: 0.2MB
What is it?
iPod is a music playing app.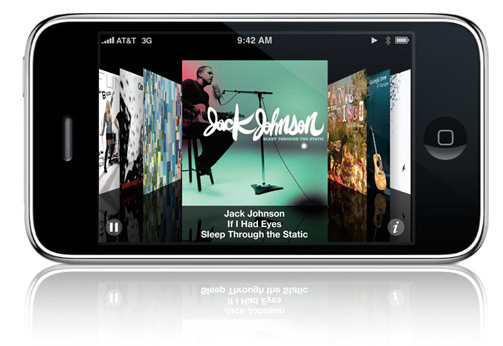 How is it helpful?This is your music collection of inspiration!!! You can load your device with all of your favorite songs that inspired you to want to write in the first place. When you get stuck, take a break and listen to some music to get inspired.You can also load it up with MP3s of instrumentals of songs you are working on. Then you can leave the studio to work on writing somewhere else.It's nothing like fresh air to get inspired.

Link: Comes installed on the iPhone or iPod Touch
8. Pandora

Price: Free

Size: 0.5MB

What is it?

Pandora is a free personalized radio station.

How is it helpful?

Just like pick #7, listening to music can help you get out of a creative rut. But Pandora can also open you up to new music. When you pick a artist to listen too, it will automatically generate a play list of similar artist. This can open you up to new music.

Also you can be inspired by the different writing styles by picking some new genres of music on Pandora such as rock, jazz, country, etc.

Link: View in iTunes
I hope these song writing programs /  apps help your writing process.