Here are the best free online Rhyming Dictionary websites that you can use to help write song lyrics or poetry.
These rhyming dictionaries are mobile friendly, so you can work on your rhymes while on the go.
How to use a rhyming dictionary:
Song Writing
Poetry
Rapping
Free Rhyming Dictionary Websites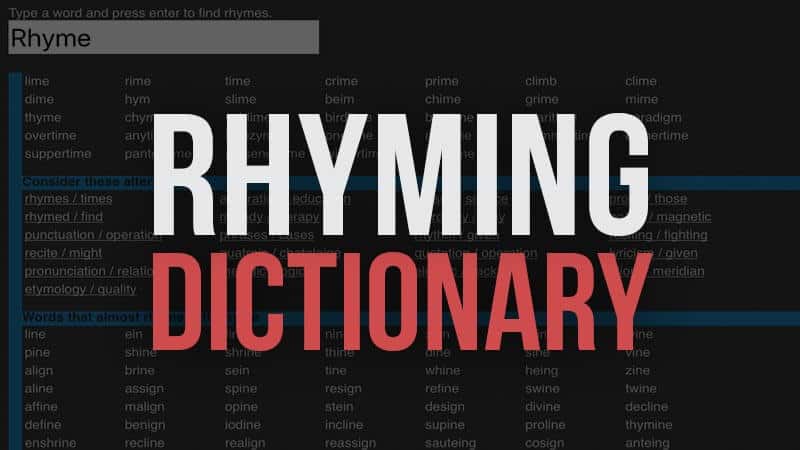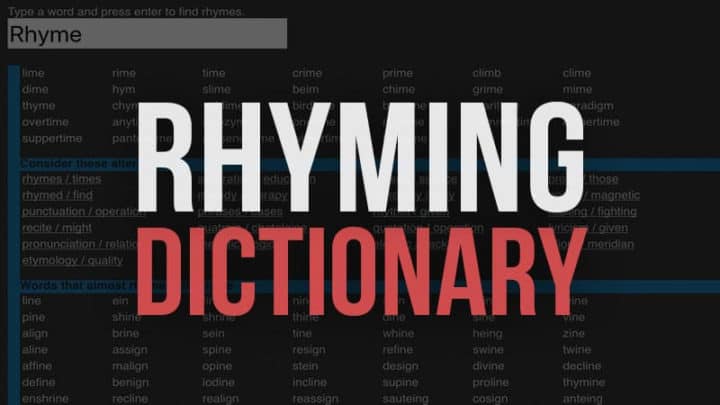 Rhymes.net is a unique online dictionary that contains a huge collection of rhyme entries for almost any given word in English — collaboratively assembled by contributing editors.
Use the rhyming words database to find rhymes for your poetry, lyrics or rapping. The dictionary is divided by syllables and can be rated, heard using voice pronunciation and even translated to many common and not so common languages.
---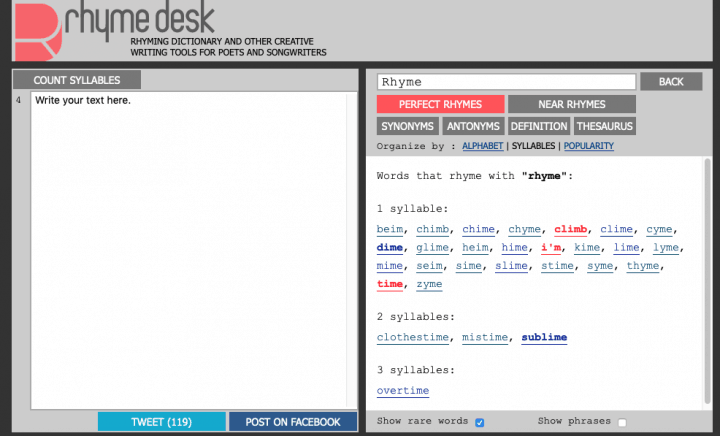 Rhyme Desk offers following word tools for aspiring poets and songwriters:
Find the right words in the most extensive dictionary –

search for perfect rhymes

as well as

near rhymes

(aka slant rhymes).
Use synonym, antonym, and related word dictionaries to spark your creative writing.
Use syllable counter to shape your metered poetry.
Write down your poems and songs (press "Toggle" on mobile devices) and share them on Facebook and Twitter.
---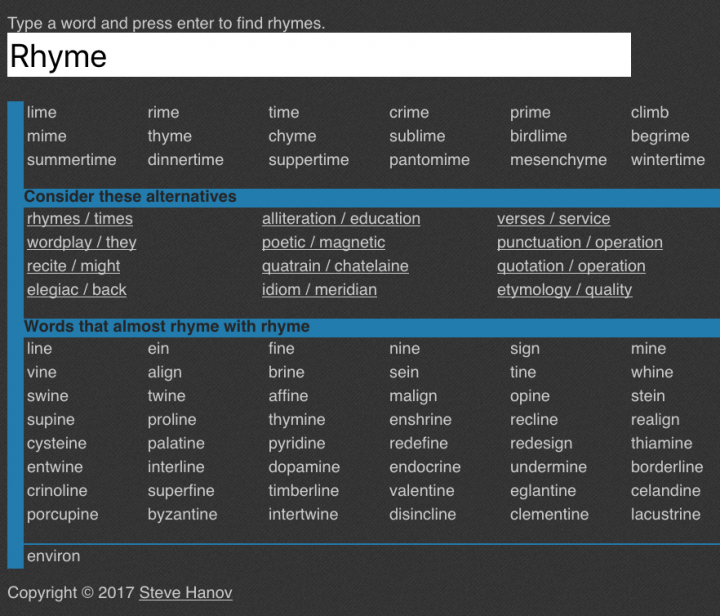 The largest dictionary for rhymes on the Internet, made for your phone.
---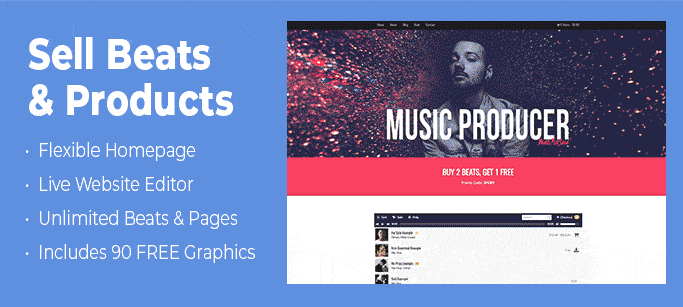 ---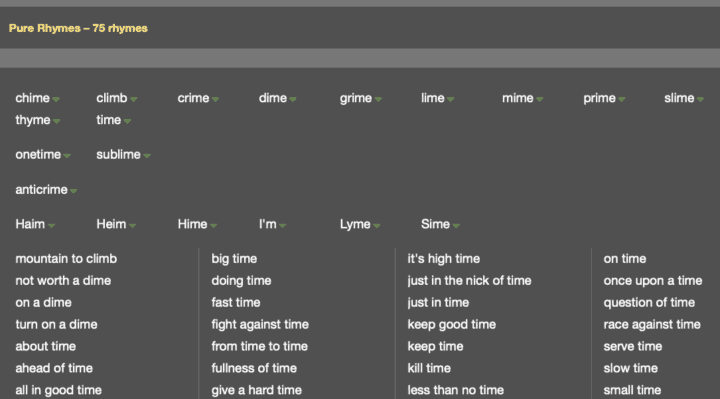 WikiRhymer is designed by a professional songwriter for professional writers (and those that aspire to be!).
---
Find rhymes, synonyms, adjectives, and more!
---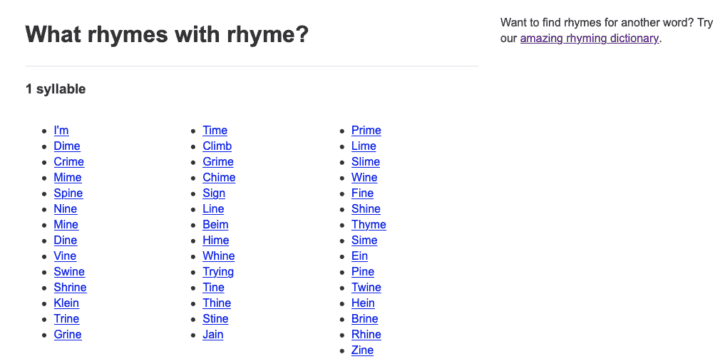 The most powerful rhyming website can rhyme any kind of word. Simple, fast, mobile-optimized and constantly improving.
This rhyming app is part of a suite of tools for lyricists, songwriters and rappers.
---
---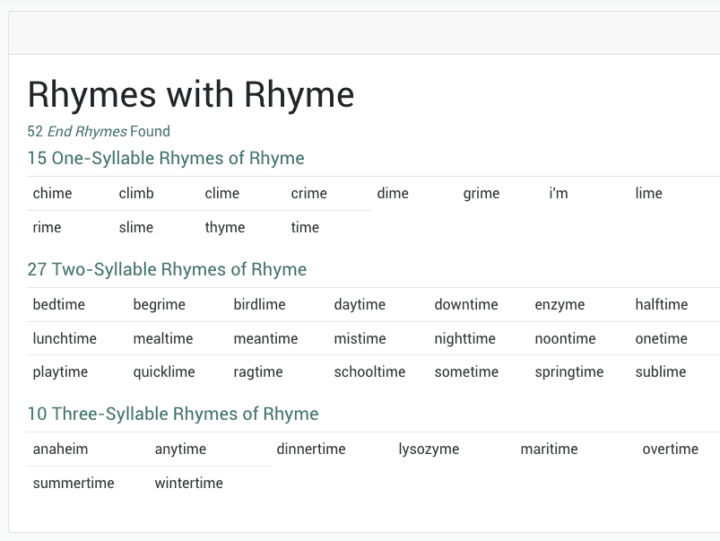 Rhymer is an online rhyming dictionary that helps you find rhymes fast and easy.
Find rhyming words with six types of rhymes:
End Rhymes (blue/shoe)
Last-Syllable Rhymes (timber/harbor)
Double Rhymes (conviction/prediction)
Triple Rhymes (transportation/dissertation)
Beginning Rhymes (physics/fizzle)
First-Syllable Rhymes (carrot/caring)
---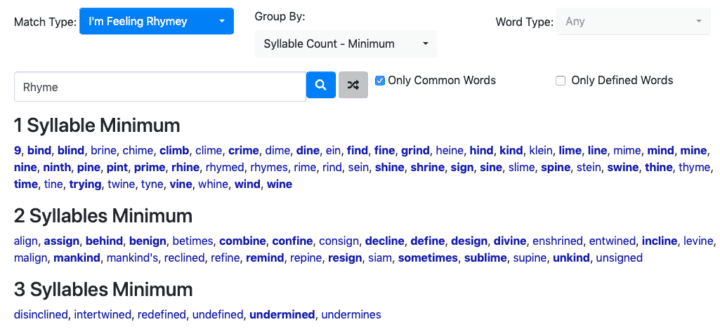 A powerful rhyming dictionary. Search for rhymes, off-rhymes, sound-alikes and more.
---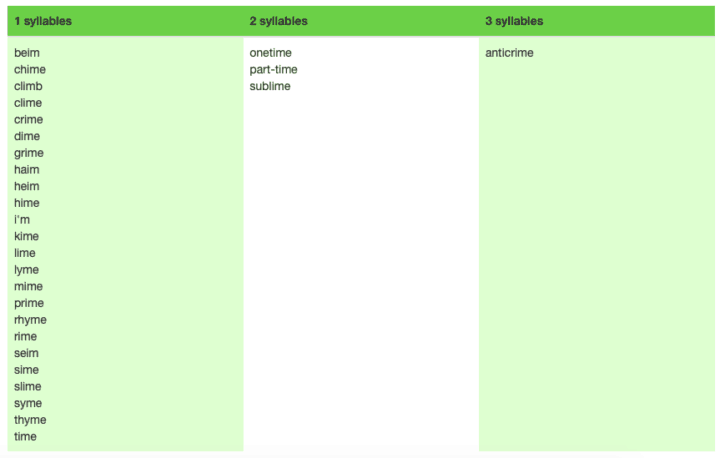 This website will help you find rhymes for different words, and it supports both English and Dutch.
---
---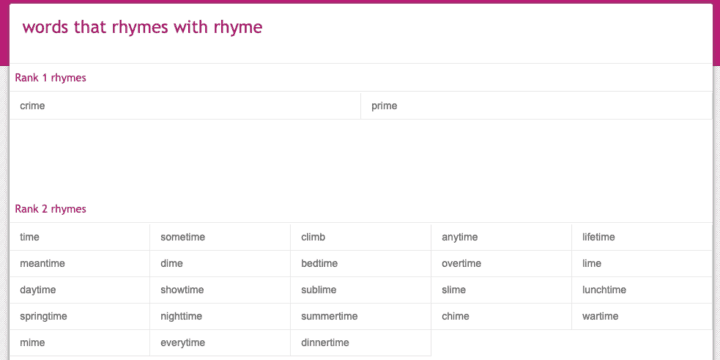 Find perfect rhymes for free at the best online rhyming website, their automatic rhyming dictionary will get just the rhyme you need.
---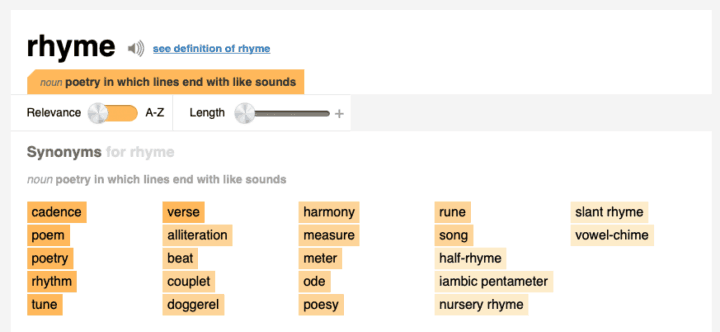 Thesaurus.com is the world's largest and most trusted free online thesaurus brought to you by Dictionary.com.
---
I hope you enjoy these free rhyming dictionaries. Do you have a favorite?
Please share this article and join our newsletter for more free VST Plugins.