This guide will answer what an Audio Interface is, what it does, how it is used, and the best available audio interfaces.
Audio Interfaces are devices that connect to your computer and have analog inputs to accept audio signals from instruments, microphones, or other sources. It converts the analog signal into digital data that your computer can read. They often serve as the central component of home recording studios.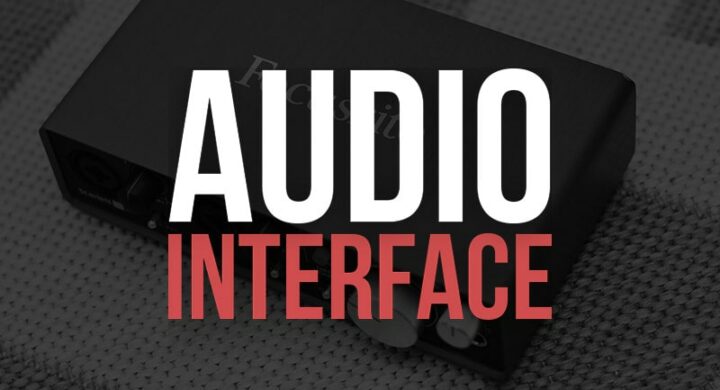 What Is An Audio Interface?
Technology should not interfere with your creativity. However, at a certain point, you rely on it to produce desired results. With the right gear and tools, you can speed up your work and make sure that your listeners hear precisely what you are hearing.
One of the initial decisions you have to make when stepping into the world of music production is to project sound into and out of your computer, where an audio interface comes into play.
An audio interface enables the user to record and play audio from a computer. Although the built-in audio in your computer is quite good, the sound produced by a professional audio interface is way better.
Related: 10 Best USB Audio Interfaces
It also gives the user more options for recording and playback. Many DJs and personal home studios rely on a two-channel USB audio interface for professional recording at home.
An audio interface allows the user to connect various devices like microphones and keyboard cables to a computer and record through USB.
It provides an output on Studio Monitor Speakers, computer speakers, and headphones so you can listen to the recorded or real-time input audio to play through your computer.
High-end audio interfaces have an onboard MIDI collection to connect your keyboard or DJ controller to your computer using the audio interface. This saves the cost of purchasing an additional midi interface for your laptop.
Let's look at the two main types of audio interfaces:
Desktop Audio Interface for Personal Use or Podcasting
This works great for DJ setups and project studios where you require 2 to 6 tracks of audio. These contain audio monitoring controls and headphone jacks on the front side of the desktop.
Rackmount Audio Interfaces for Professional Recording Studio Uses or Project Studios
Geared for professional recording with more refinement and specialization, the rackmount audio interface does not allow as much control on the front of the desktop as a desktop audio interface. It is not meant to be controlled with knobs and buttons but a computer using DAW software. These interfaces are used in serious recording studios where full bands record with several inputs simultaneously. It has a higher processing power and allows users to record higher sound quality settings with a vast dynamic range.
---
What Are Audio Interfaces Used For?
Audio interfaces ensure high-quality recording and ease of use. One of the significant benefits of using an audio interface is its large size and its easy accessibility. A broader range of input types can be built into the unit, making it function better than existing system cards.
---
How Do Audio Interfaces Work?
An audio interface is hardware that you use to connect your audio gear, such as instruments and microphones, to the computer. The device functions by converting analog signals into digital audio. This helps your audio computer become readable, and the computer can process it like any other information.
---
What Are the Best Audio Interfaces?
The correct audio interface depends on how you plan to use it.
Ask yourself these questions:
How many channels will I record at a time?
How many inputs do I require simultaneously?
What is my budget?
Following are some options that you should consider. These are the best-selling audio interfaces on Amazon.
Sale
Bestseller No. 1
Focusrite Scarlett Solo (3rd Gen) USB Audio Interface with Pro Tools | First
Pro performance with the finest pre-amps - Achieve a brighter and a more open recording thanks to the best performing mic pre-amps the Scarlett range has ever seen. A switchable Air mode will add extra clarity to your vocals when recording with your Scarlett Solo.
Get the perfect guitar take - There's no need to sacrifice your tone with the high headroom instrument input when recording your guitar and basses. Capture your instruments in all their glory without any unwanted clipping or distortion thanks to our Gain Halos.
Studio quality recordings for your music and podcasts - You can achieve professional sounding recordings with Scarlett's high-performance converters which enable you to record and mix at up to 24-bit/192kHz. Your recordings will retain all of their sonic qualities so that you can sound like the artists you admire.
Low-noise for crystal clear listening - Two low-noise balanced outputs provide clean audio playback. Hear all the details and nuances of your own track or music from Spotify, Apple Music and Amazon Music. Plug-in your own headphones via the output for private listening in high-fidelity.
Easy Start - It's easier than ever to get up and running with your Scarlett with our online tool, Easy Start. Whether you're looking to record or playback audio, we will help you get started.
Bestseller No. 2
M-Audio M-Track Duo – USB Audio Interface for Recording, Streaming and...
Podcast, Record, Live Stream, This Portable Audio Interface Covers it All – USB sound card for Mac or PC delivers 48 kHz audio resolution for pristine recording every time
Be ready for anything with this versatile M-Audio interface - Record guitar, vocals or line input signals with two combo XLR / Line / Instrument Inputs with phantom power
Everything you Demand from an Audio Interface for Fuss-Free Monitoring – 1/4" headphone output and stereo 1/4" outputs for total monitoring flexibility; USB/Direct switch for zero latency monitoring
Get the best out of your Microphones - M-Track Duo's transparent Crystal Preamps guarantee optimal sound from all your microphones including condenser mics
Whether you're a Podcaster or Beat Maker, this software suite won't disappoint - Includes: Pro Tools, First M-Audio Edition, MPC Beats, Xpand!2, Eleven Lite guitar amp plugin and 20 AVID plugin FX
Bestseller No. 3
BEHRINGER Audio Interface, 1x XLR/TRS 1x 1/4" 2X RCA USB, Black, 1-Channel (UM2)
2x2 USB audio interface for recording microphones and instruments
Audiophile 48 kHz resolution for professional audio quality. Maximum sampling rate: 48 kHz
Compatible with popular recording software, including Avid pro tools, Ableton live, Steinberg Cubase, etc.
Streams 2 inputs / 2 outputs with ultra-low latency to your computer, supporting Mac OS X and Windows XP or higher
State-of-the-art, +48 V-powered Xenyx Mic Preamp comparable to stand-alone boutique preamps
Sale
Bestseller No. 4
M-Audio AIR 192|4 - 2-In/2-Out USB Audio Interface with Recording Software from...
Capture Every Detail: Premium component selection and 24-bit/192kHz resolution for professional recording and monitoring to your Mac to PC
Low Latency: Hi-Speed USB / USB-C circuitry gives you the fastest connection, with a class-leading round trip latency of only 2.59ms; USB and USB-C connection cables included
Pristine Studio Grade Capture: Transparent crystal preamps and ultra-pristine A/D converters for unsurpassed audio recording quality
Connectivity: XLR+¼inches TRS combo input, (1) ¼inches instrument input, stereo ¼inches outs and ¼inches headphone out with independent level control
Feature Packed: Rugged metal chassis, large central volume control, VU LED meters and USB/Direct knob for zero latency monitoring
Bestseller No. 5
Last update on 2021-11-28 / Affiliate Links
---
How Do You Use an Audio Interface?
Let's go through the basic steps of setting up an audio interface.
Use the recommended connection or USB to connect your interface to your desktop computer or laptop.
Install the required or recommended drivers. Sometimes, this update takes place automatically with a newer system, but you will need to download a driver.
Connect your speakers to the audio interface using the output.
Install or launch your audio recording or playback software.
Identify the output of your audio software to direct to your installed audio interface.
Test the interface by playing back pre-recorded audio from the installed software.
Connect your inputs like microphones and keyboard cables etc., to the audio interface.
Run a check on the input signal by routing an input device to input in the software and recording a short clip.
Play it back on your speakers to check if it's working.
Once the setup is complete, your audio interface is ready to capture audio signals from a direct input (guitar, keyboard, bass, etc.) or a microphone.
It converts that electrical signal into a digital signal consisting of binary language that your computer can read and understand. You can think of the interface as an advanced outboard sound card with solid preamplifiers and other features.
---
What Is the Difference Between Sound Cards & Audio Interfaces?
Sound cards and audio interfaces have similar functionality, but there are some significant differences between both devices regarding audio playback and recording.
When an audio interface is connected to your laptop or computer, you bypass the onboard soundcard, so it's safe to say that an audio interface can replace the sound card. The audio is processed using the interface than the sound card and its drivers. However, sometimes a sound card can perform more capably than an audio interface.
Sound cards and audio interfaces share many attributes. The main difference between them is that an audio interface is an external device that is connected to the computer or laptop using cables. At the same time, a sound card is hardware that is pre-installed in devices.
The sound card provides inputs and outputs, allowing users to send audio into the computer or into headphones and speakers.
Computers are incapable of comprehending audio signals, so a sound card is pre-installed in every device. Although audio interface and sound cards perform the same primary function, an audio interface is the more versatile among the two.
Sound cards work for playing audio from the computer, but they do not offer additional recording and playback options like audio interfaces.
Sound cards commonly feature auxiliary inputs and outputs that support recording to a certain extent, compared to an audio interface's balanced input. In addition, it is impossible to connect a condenser microphone to a sound card as the small auxiliary input on cards isn't compliant with these microphones.
---
Is An Audio Interface Necessary?
You can record basic audio with the sound card on your computer. Still, the basic functionality of these cards falls short in many ways, especially in comparison with external audio interfaces.
Although you don't need an audio interface to record sound, you need one to record professional, high-quality sound. This includes recording voices, instruments, and other types of audio. The basic sound card doesn't have the required connections for recording music at a high-quality level.
Let's look at the reasons why an audio interface is better than a standard sound card.
It has more ins and outs
It has no jitters, latency, or noise
Connects to a wide range of playing equipment and recording
Delivers higher quality audio than standard sound cards
Works faster in comparison with traditional sound cards
Most interfaces offer MIDI inputs and outputs
Allows you to record and play software-based plugins and instruments
Use direct monitoring and remove latency
You can use professional-grade microphones without adapters
---
Summary of Audio Interfaces
Audio interfaces connect to the computer and provide analog inputs to accept sound from instruments, microphones, or other sources. They convert analog signals into digital data that your computer can read. They are often the center of home recording studios.
We hope you now understand what an audio interface is and how they are used to record music.