This guide will answer what is a MIDI Controller, what they are used for, how to use them, and provide a list of the best MIDI controllers for beginners.
A MIDI Controller is a hardware device that allows you to control various aspects of music software and MIDI-capable hardware. Most MIDI keyboards do not play sound, but they will trigger audio when connected to MIDI-supported devices. Controllers are used for creating music and live performances.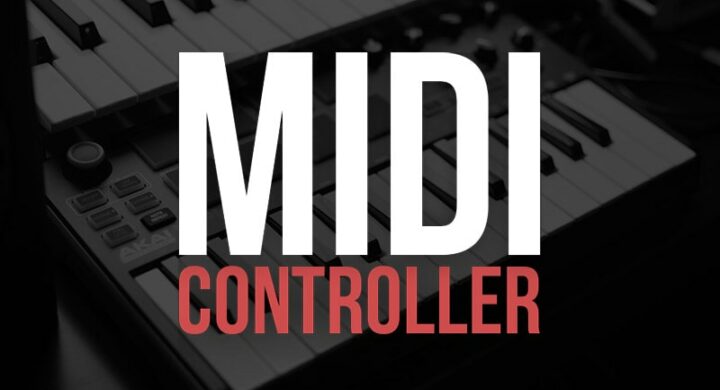 What Is A MIDI Controller?
Any hardware or software that creates and sends Musical Instrument Digital Interface (MIDI) data to MIDI-supported devices, often to stimulate sounds and manipulate parameters of electronic music performance, is referred to as a MIDI controller.
MIDI controllers typically provide information about the frequency of chords to play using a musical keyboard.
However, a MIDI controller may activate lights and control other features of electronic music performance.
A sensor in a wind controller translates breathing strength to volume input and lip pressure to pitch adjustment.
There are drumming and stringed instrument controllers, as well as specialist and exploratory devices. Some MIDI controllers are linked to specific digital audio workstation (DAW) software. Over the years, the original MIDI definition has been expanded to provide more control functions and greater accessibility.
MIDI controllers do not often generate or emit rhythms on their own. The performer generally presses hits, blows, or contacts some manner of the interface on MIDI controllers. This operation creates MIDI data which may subsequently be sent to a MIDI-compatible sound subsystem or synthesizer through a MIDI connection.
Related: What Is MIDI?
In turn, the sound component or synthesizer generates a sound that is enhanced by a megaphone.
The electronic musical keyboard MIDI controller is perhaps the most widely used MIDI device. The MIDI controller delivers MIDI data regarding the tone's frequency, how forcefully it was pressed, and how long it lasted when the keys are struck. Wind controllers, which a performer breathes into and hits buttons to convey MIDI data, and electronic drum pads are two more popular MIDI controllers.
The MIDI controller may be outfitted with a number of adjusters, sliders, keys, pedals, and other sensors, as well as a piano. Much audio control equipment is MIDI-based and so functions as MIDI controllers.
While MIDI controllers are most commonly used to activate musical sounds and play musical instruments, they may also be used to control other MIDI-compatible devices such as studio lighting, digital audio synthesizers, and complicated guitar impact units.
MIDI was created with keyboards in consideration, and any controller that is not a keyboard is referred to as a "substitute" controller. Musicians who were not concerned with keyboard-based composition saw this as a constraint. The standard proved adaptable, and MIDI interoperability was extended to other types of controllers, such as violins, trombones, guitars, wind instruments, and various kinds of drums.
MIDI Controller support is available through USB and Bluetooth to connect to Windows, Mac, and Linux computers.
Related: 10 Best MIDI Drum Controllers
---
What Is A MIDI Controller Used For?
A MIDI controller is a device to play virtual instruments and compose music on your personal computer. It delivers MIDI data (Musical Instrument Digital Interface) to a PC or synthesizer, translating the signals and producing audio.
While MIDI controllers are most commonly used to produce musical sounds and play musical software instruments, they may also be used to control other MIDI-compatible devices such as stage lighting, digital audio mixers, and complicated guitar effects units.
---
How Do You Use A MIDI Controller?
MIDI controllers are the deal when it comes to producing flawless symphonies.
To use a MIDI controller:
You can also connect your MIDI controller to different devices so that they can function as MIDI signal receivers. Many top music producers diversify their MIDI exposure but work with several MIDI-enabled devices at the same time.
Find an appropriate software for MIDI that allows you to control and manipulate your musical cadences. A software with a plethora of virtual instruments like synthesizers, drums, and sampler is a plus. The best MIDI software is the one that allows you to edit, record, and play music files.
Use MIDI sound modules. The MIDI sound module is a compact mobile platform that functions as a sound library. That is, it takes MIDI signals from your keyboard, translates them to digital representation, and stores them. Furthermore, it may be used as an output device, which means it can recreate digital information as auditory sounds. In simpler terms, you may use it to listen to your own songs.
Invest some time to explore the options your MIDI keyboard has to offer. Familiarize yourself with the most important controllers on your MIDI keyboard. These include foot controllers, breath controllers, knobs, pads, faders, buttons, and more.
Work with the modulation wheel. It is a controller on your device in the design of a wheel, positioned such that just the upper half of it displays on the surface. This gadget may be used to add effects or adjust the many characteristics of the sound you make. Artists commonly use it to generate vibrato by regulating an LFO (Low-Frequency Oscillations). Others choose to use it to regulate the rotational speed of the speaker simulation.
Start creating your sequences. Using pre-recorded MIDI sequences, templates, and sound effects, you may easily compose various musical works. However, if the sound is subjected to too many digital alterations, it becomes fake, mechanical, and uninteresting.
Related: 11 Best Free Online MIDI Editors & MIDI Players
---
What Are The Best MIDI Controller For Beginners?
If you're a beginner, here are the best-selling MIDI keywords on Amazon with thousands of customer reviews.
Bestseller No. 1
AKAI Professional MPK Mini MK3 - 25 Key USB MIDI Keyboard Controller With 8...
Music Production and Beat Maker Essential - USB powered MIDI controller with 25 mini MIDI keyboard velocity-sensitive keys for studio production, virtual synthesizer control and beat production
Total Control of your Production - Innovative 4-way thumbstick for dynamic pitch and modulation control, plus a built-in arpeggiator with adjustable resolution, range and modes
The MPC Experience - 8 backlit velocity-sensitive MPC-style MIDI beat pads with Note Repeat and Full Level for programming drums, triggering samples and controlling virtual synthesizer / DAW controls
Complete Command of your Virtual Instruments and FX - 8 360-degree knobs assign to all your music studio plugins for mixing, tweaking synth controls and more
1500 plus Sounds and Everything You Need for Pro Production - Complete Music Production Starter Kit including MPC Beats, 6 Virtual Instruments and 2GB of sound content
Sale
Bestseller No. 2
Sale
Bestseller No. 3
Alesis Q88 MKII - 88 Key USB MIDI Keyboard Controller with Full Size Velocity...
Music Production and Beat Maker Essential – USB powered MIDI controller with 88 full size MIDI keyboard velocity-sensitive keys for studio production, virtual synthesizer control and beat production
Complete Control - Octave / Transpose buttons to access the full piano range; Pitch bend and modulation wheels; Assignable volume knob and transport controls for tactile DAW and virtual synth control
Universal Compatibility - Complete compatibility with any music production app that accepts a MIDI controller including Ableton Live, ProTools, Cubase, Logic, MPC Beats and more
Make Music Anywhere - Works with iOS devices for use with apps including Garageband, via the Apple Lightning to USB Camera Adapter (sold separately)
Professional Software Suite Included - ProTools | First Alesis Edition, Akai Professional MPC Beats, four virtual instruments from AIR Music Tech and 60 free MIDI controller lessons from Melodics
Sale
Bestseller No. 4
Sale
Bestseller No. 5
AKAI Professional MPK Mini Play – USB MIDI Keyboard Controller With a Built in...
Standalone Piano Style Keyboard - Portable mini keyboard and USB MIDI controller with 25 velocity-sensitive synthesizer action keys, pitch/mod joystick control, plus 128 sounds and 10 drum kits
Play Anywhere - Built in speaker, 1/8-inch headphone output and battery powered specification (3 x AA batteries – not included) for performing and producing on the go
Beat Maker Essential - 2 banks of 8 ultra-responsive backlit MIDI drum pads with Note Repeat and Full Level functions for drum machine style performance and music production
Tweak, Customize - 2 banks of 4 knobs (8 total) to tweak internal sounds or software parameters; In standalone mode control chorus, reverb, filter, EQ and envelope controls
The MPC Production Experience - Includes MPC Beats Software complete with the finest features and essential production tools from the Akai Professional MPC Series
Last update on 2021-11-25 / Affiliate Links
Related: 10 Best MIDI Keyboard Controllers
---
How Do I Get Sound On My MIDI Controller?
Most MIDI controllers do NOT play sound on their own.
To play sound with your MIDI Controller, you need to connect your controller to a MIDI-supported device and play sound through that device.
This can be a computer with music software, an instrument rack, or another MIDI supported device.
---
Why Do I Need A MIDI Controller?
MIDI controllers are used for creating a "human touch" to a specific piece of music. Composing harmonies and chord progressions live using a MIDI controller adds a "personal vibe" to them that programming them with a mouse and computer keyboard does not.
It'sIt's difficult to get a humanly sounding touch while manually inputting notes into a piano roll; therefore, a MIDI controller will allow you to simulate operating a real instrument and produce a more genuine and natural-sounding recording.
Most MIDI keyboard controllers can detect how firmly or softly you hit a note. This allows them to synchronize your input into a more "human" form.
---
Is 25 A Key MIDI Controller Enough?
There are numerous key options to choose from and apply to your beat when it comes to MIDI controllers. Some MIDI keyboards only feature 25 keys, while some go as high as 88 keys. The number of keys you require in your MIDI controller is hinged on your musical requirements and specific tune expectations.
If you don't consider yourself an expert pianist or keyboardist and will mostly be using the MIDI keyboard to write basic bass lines or leads, then the smaller keyboards 25 to 49 may be more than enough for you.
A 25-key MIDI controller can perfectly suffice for an entire production, and it can even carry you very far while performing on stage if it has some additional control aspects than the basic keys. Some individuals can play beautiful melodies on 25 keys because they correctly understand when to use the Octave Up and Down controls.
Conversely, if you aspire to be a pianist destined for stardom, then you must want to go to a full-sized 88-key keyboard and learn its ups and downs. This head-start will allow you to perform piano music, among other great things using a MIDI controller. If you want to birth anything with a piano that is sure to turn some heads, you should aim for a MIDI controller with 49 keys, at the very least.
---
The Difference Between MIDI Keyboard & MIDI Controller?
MIDI keyboards and MIDI controllers are pretty much the same.
They are physical devices that allow you to play notes and modify settings on a MIDI-supported device.
They are just different physical interfaces. A MIDI controller can be a keyboard, drum pad, knobs, slider, wheel, and more.
Both MIDI Keyboards and MIDI controllers are engineered for your computers and other devices to read or instigate sounds using hardware synthesizers and samples.
MIDI controllers don't create sounds on their own; they transmit signals so that an output device might fashion them into a full-fledged sound.
MIDI devices need an external source to hear the sounds they produce. Usually, a computer accompanied by appropriate software can edit the sounds you have created using a MIDI controller.
Related: 10 Best Websites for Free MIDI Files
---
Summary Of MIDI Controllers
A MIDI Controller is any software or hardware that produces and sends MIDI messages to MIDI-supported devices. These signals are generated and transmitted to devices to play different sound effects and control and regulate the parameters of electronic music performance.
---
We hope you found this information on MIDI controllers helpful.
If we missed anything, please share it in the comments.