Here are the top rated studio monitors you can find on Amazon.
The list below was put together by Amazon's product rating, sales, and customer comments.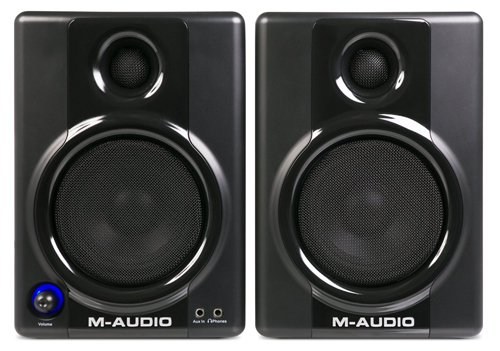 M-Audio Studiophile AV 40 Active Studio Monitor Speakers
Customer Rating:
Features:
4-inch polypropylene-coated woofers – tight, accurate bass
1-inch ferrofluid-cooled silk dome tweeters – clear, smooth highs
OptImage III tweeter wave guides – precision imaging for a balanced stereo field
20-watt-per-channel amplifier with Class A/B architecture – professional design and fidelity
Magnetic shielding – reduces interference with other equipment, perfect for multimedia and video work
Price: $149.00
---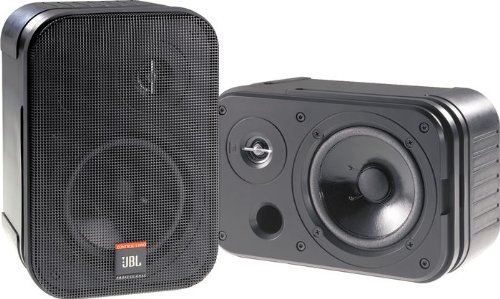 JBL Control 1 Pro High Performance 150-Watt Miniature Studio Monitor Speaker
Customer Rating:

Features:
Latest 150W Pro quality version of JBL Control 1 for shelf or wall mount
Variable angle wall brackets enable multiple uses and angles
Professional drivers and high quality crossover gives a faithfull and transparent sonic performance
It features SonicGuard HF overload protection
It features magnetically shielded transducers for near monitor or ear TV applications
Price: $164.00
---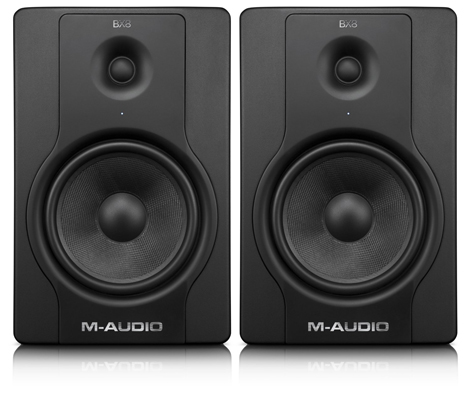 M-Audio BX8 D2 8-Inch Active 2-Way Studio Monitor Speakers
Customer Rating:

Features:
Bi-amplified recording studio monitor with 130 watts of distributed power
Class A/B bi-amplification with precision crossover lets each speaker work effortlessly to reproduce your mix with stunning accuracy
8-Inch low-frequency transducer with Kevlar cones for rich, defined lows
1.25-Inch high-frequency drivers with natural silk domes and integrated waveguides for smooth, clear highs and a wide -Inchsweet spot-Inch
Rear porting for extended low-frequency response while reducing air turbulence
Magnetic shielding eliminates interference with other electronic equipment
Balanced XLR and 1/4-Inch inputs let you connect to a wide range of audio sources
Price: $357.03
---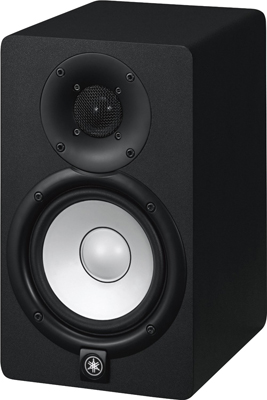 Yamaha HS5 Powered Studio Monitor
Customer Rating:

Features:
2-Way bass-reflex bi-amplified nearfield studio monitor with 5″ cone woofer and 1″ dome tweeter
54Hz-30kHz frequency response
45W LF plus 25W HF bi-amp system for high-performance 70W power amplification
Room Control and High TRIM response controls
XLR and TRS phone jack inputs accept balanced or unbalanced signals
Price: $197.98
---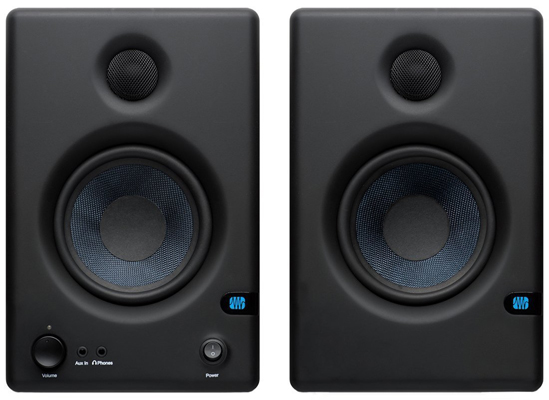 Presonus Eris E4.5 2-Way Powered Studio Monitor
Customer Rating:

Features:
4.5 inch Kevlar low frequency transducer
1 inch 25mm ultra low mass silk dome high frequency transducer
50 watt class ab amplification 25w side
Midrange 6 db continuously variable HF 6db continuously variable High Pass off 80 Hz 100 Hz and Acoustic Space settings flat -2 -4 db for accurate mixing contour
RF interference output current limiting over temperature transient and susonic protection
Price: $199.95
---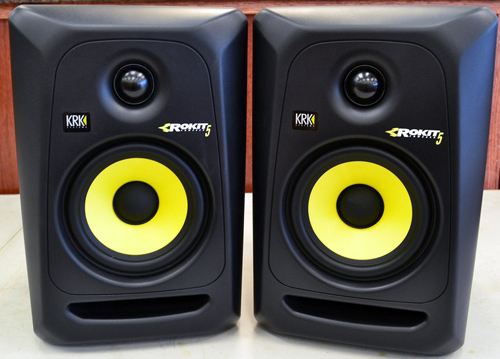 KRK RP5G3-NA Rokit 5 Generation 3 Powered Studio Monitor
Customer Rating:

Features:
This Bundle contains 2 items: Pair of KRK RP5G3-NA Rokit 5 Generation 3 Powered Studio Monitor
Bi-amped, class A/B amplifier offering large headroom and low distortion
Proprietary waveguide optimized for superior imaging
1 Soft-dome tweeter provides pristine clarity and extended response up to 35kHz
High-frequency adjustment tailors the system to personal taste
Price: $299.00
I hope these links help all of you looking for studio monitors.
Pricing note: The prices above can change, so check the Amazon page for the most recent price. Also, you can sometimes buy used gear from Amazon for a cheaper price. So check to see if they offer a used option if you are on a budget.
Do you have favorite studio monitors?