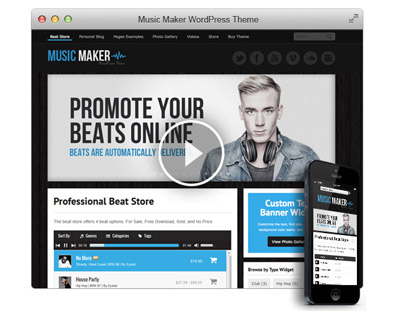 Become a Hip Hop Makers affiliate by promoting the Music Maker WordPress theme.
40% Commission is Offered for Referrals
$14.80 earned for the Standard License
$22.80 earned for the Premium License
How to Sign Up
Create a Gumroad account – Sign up for their service to become a affiliate.
Submit Your Info to Join – People are manually added, so you will receive confirmation in 24 to 48 hours.
Start Promoting!
How the Program Works
Once a affiliate begins sharing their unique link, Gumroad will cookie users as they visit the link. As long as a customer purchases the product within 30 days of visiting the affiliate's link, the affiliate will get credit for the sale.
How to Promote the Music Maker Theme?
To get you started more easily, here are a few marketing ideas.
Write a review post on your blog explaining to your readers why they should get the theme.
Share your affiliate link on forums and other online communities.
Share your affiliate link on social networks like Facebook and Twitter.
If you have email newsletter, email mail them about the theme.
Additional Notes
Affiliates will be paid out every other Friday via Gumroad.
Exact commission per sale may vary depending coupons and discounts used by the purchaser.
Commissions will not be earned on license upgrades.
Commissions are not valid for purchases made by the affiliate program member through the member's own affiliate link.
To earn commission, the purchase must be from your affiliate link.
Commission rates can change in the future.
If you have any more questions feel free to contact us.