Music Maker Theme Update ( 2.12 )
Here are some of the updates for the Music Maker WordPress theme.
New Mobile Menu
A new more up to date mobile menu has been added to replace the old drop down navigation menu. The menu appears when the screen resolution is below 880px. Test it out on the demo site.
Clear Results Button
A "Clear" button has been added to the beat sorting pages. If a user sorts beats by genre, category, tag, or searches. This clear button will appear in the sorting bar. When the button is clicked it will take them back to your beat store homepage.

Homepage Banners on Beat Sorting Pages
A option has been added to display your homepage banners over the beat sorting pages to look more consistent for the user as they are going through your beats. By turning on this feature your banners will show on beat genre, tags, categories, and beat search results page.
Help Tab in WordPress
A new Help link has been added to WordPress. This page has links to all the current articles on the help site to find answers faster. Find over 200 helpful articles.
Improved Beat Sorting on Mobile
I have improved the beat sorting bar on mobile devices. Clicking the buttons respond better and the buttons are now bigger on smaller screens.
Other Improvements
New static page template: Beat Store Sidebar Only ( No Beat Store ) – This is for users that want to use the beat store sidebar, but not the beat store. You can use this template when using beat players from other sites.
Added the beat sorting bar above the beat search results.
Added code to help improve the beat store's search results.
Bug Fixes
Fixed audio player bug on the single beat page.
Recently added help articles:
---
Our Beat Selling Website Template offers a full website package with a beat store with automated beat downloads, discounts, photo gallery, product store, blog, unlimited static pages and much more.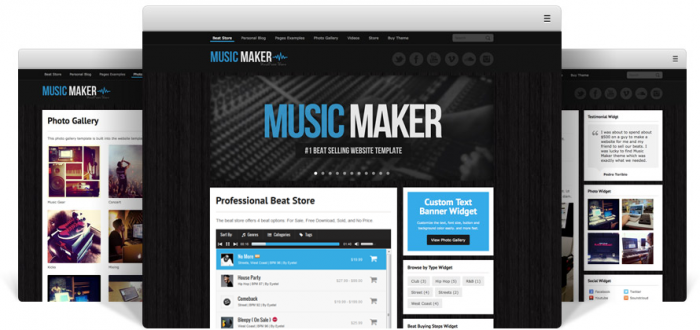 Posted by Mark V on March 14, 2016. Category: Music Production News